The X-Wing: Resistance Bomber Expansion Pack—also called the Resistance Bomber Expansion Pack—is a supplement to the tactical ship-to-ship combat game, X-Wing: Core Set, published by Fantasy Flight Games. The expansion features a detailed miniature of the Resistance's MG-100 StarFortress SF-17, as part of the promotion for the then-upcoming release of Star Wars: Episode VIII The Last Jedi. It as well as the rest of Wave XIII were announced on September 8, 2017. It alongside the rest of Wave XIII were originally intended to be released on early 2018,[2] but its release date was moved to be simultaneously released with Wave XII on the fourth quarter of 2017,[3] which turned out to be December 8.[1]
Publisher's Summary
Edit
A strategic ordnance platform flown by brave Resistance pilots, the B/SF-17 heavy bomer [sic] arrives to X-Wing™ as a towering, large-base ordnance platform with room for one systems upgrade, one tech upgrade, and two bombs. In addition to its pre-painted miniature starship, the Resistance Bomber Expansion Pack provides a host of potential pilots and upgrades. In total, you'll find four ship cards, thirteen upgrades, one condition card, a maneuver dial, and all the plastic and tokens you need to rain destructive ordnance upon the First Order!
The Resistance Bomber Expansion Pack contains a miniature of the B/SF-17 heavy bomber, plus two maneuver dials and action tokens, as well as pilot and upgrade cards.
Ship components
Edit
MG-100 StarFortress SF-17
Plastic base (2)
Ship token (4)
Maneuver dial (2)
Critical Hit token
Focus token (2)
Evade token
Shield token
ID token (43-44)
Target Lock token
Stress token
Cloak token
Pilot Cards
Edit
Upgrade Cards
Edit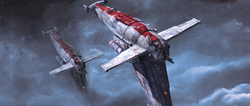 Reference Cards
Edit
Notes and references
Edit
↑ 1.0 1.1  Raw, Untamed Power - X-Wing™ Waves XII and XIII Are Now Available on Fantasy Flight Games' official website
↑  Finish What You Start - Announcing Two New X-Wing™ Starship Expansions on Fantasy Flight Games' official website
External links
Edit
Community content is available under
CC-BY-SA
unless otherwise noted.