Jurassic World: Dominion Dominates Fandom Wikis - The Loop
Play Sound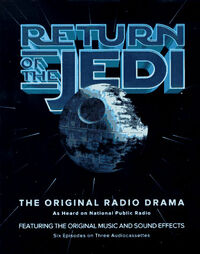 Return of the Jedi was a six-part radio adaptation of the original film, Return of the Jedi produced in 1996 and broadcast on National Public Radio in the US.
It is the third in a series of radio dramatizations of the original Star Wars trilogy. The first two radio series, Star Wars (1981) and The Empire Strikes Back (1983), were produced and broadcast by National Public Radio as part of NPR Playhouse.
Return of the Jedi was made by HighBridge Audio, the company that had released the first two series on tape and CD. It used many of the original radio cast, though Joshua Fardon took over as Luke Skywalker and Arye Gross took the role of Lando Calrissian. Ed Begley, Jr. was the voice of Boba Fett and Ed Asner, speaking only in grunts, guest-starred as Jabba the Hutt. Scriptwriter Brian Daley died before the series went to air.
The series was made with the full cooperation of George Lucas, who donated the rights and allowed the use of sound effects and music from the films. As with other Star Wars Legends material, only material matching what was featured in the original film is considered canon, but many elements of the story first featured in the radio broadcasts were later referenced in other Legends stories.
Because the Return of the Jedi audio drama was released thirteen years after the film it was based on, it gave Daley the opportunity to incorporate multiple references to the Expanded Universe that had been established up to that point, such as Mara Jade appearing as Arica in Jabba's Palace from Tales from Jabba's Palace, and a number of references to material appearing in the Shadows of the Empire novel. There is an extra scene with Luke building a lightsaber in Obi-Wan's old dwelling on Tatooine. There is another brief scene added where Fett and Solo exchange words in Jabba's dungeon.
Development
[
]
Creation of the radio version of Return of the Jedi was delayed 13 years due to Congressional cuts in spending for public broadcasting. While NPR did not have funding to produce the drama, high sales for the compact disc and cassette releases of the original Star Wars and The Empire Strikes Back radio dramas convinced executives at Highbridge Audio to take the initiative to produce the drama of Return of the Jedi through their studio instead. The drama featured the return of much of the original cast and crew, as well as once again music by John Williams, though it was noted that John Lithgow's performance of Yoda was quite different from that featured in The Empire Strikes Back.[1] The Return of the Jedi radio drama, produced in 1996, featured the song "Ewok Celebration," which was replaced in 1997 by "Victory Celebration" for the film's Special Edition.
Episode list
[
]
1. Tatooine Haunts
2. Fast Friends
3. Prophecies and Destinies
4. Pattern and Web
5. So Turns a Galaxy, So Turns a Wheel
6. Blood of a Jedi
Credits
[
]
Sources
[
]
Notes and references
[
]
External links
[
]