Spider-Man: No Way Home Trailer Dropped - The Loop
Play Sound
Revenge of the Sith was the tenth and final expansion card pack made for the Star Wars Trading Card Game produced by Wizards of the Coast, and based on Star Wars: Episode III Revenge of the Sith. The expansion symbol was that of Darth Vader.
Expansion contains 110 cards including 40 rare, 30 uncommon and 40 common cards. Revenge of the Sith added new type of cards: Equipment. Those cards can be added to Character, Ground or Space unit expanding its abilities or power. Each Equipment card have build cost and equip cost paid with Build Points or (equip cost) Force Points.
The expansion was released on April 2, 2005[2] and has been sold in boosters containing 11 (7 common, 3 uncommon, 1 rare) or 5 cards.
New abilities
[
]
Disrupt now can be used to missions and activated abilities.
Card types
[
]
Battle: 17
Character: 35
Equipment: 8
Ground: 13
Location: 7
Mission: 9
Space: 21
Card list
[
]
Anakin Skywalker (M)
Bail Organa (B)
Chewbacca (M)
Commerce Guild Starship (ROTS)
Darth Sidious (G)
Darth Tyranus (I)
Darth Vader (R)
Darth Vader (S)
Dismiss
Foil
Grand Moff Tarkin (D)
It Just Might Work
Jar Jar Binks (C)
Lightsaber Quick Draw
Mace Windu (F)
Mas Amedda (A)
Mustafar Battle Grounds
Obi-Wan Kenobi (N)
Padmé Amidala (G)
R4-P17 (A)
Rage of Victory
Republic Fighter Wing
Sacrifice the Expendable
Spinning Slash
Unexpected Attack
Yoda (K)
C-3PO (I)
Confusion
Darth Sidious (F)
Darth Vader (Q)
Jedi Concentration
Jedi Master's Deflection
Nute Gunray (D)
Obi-Wan Kenobi (L)
Padmé Amidala (H)
R2-D2 (J)
Thread The Needle
Yoda (J)
Anakin Skywalker (L)
Chewbacca (L)
Darth Sidious (E)
Darth Tyranus (H)
Diving Attack
Force Dodge
Homing Missiles Salvo
Instill Doubt
Jedi Piloting
Obi-Wan Kenobi (M)
Power Attack
Surge of Strength
Card samples
[
]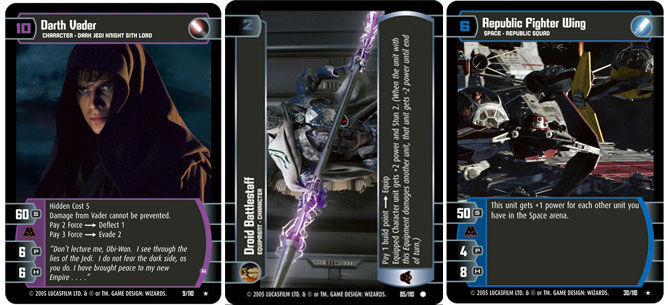 Notes and references
[
]
External links
[
]