"I was just one of a team of extras who worked on the Star Wars films. There was a hard core team of about 15 of us who worked continually on the films as different characters (mostly with masks or helmets on) who were then added to when there were larger scenes such as the massed guard of honour on the Death Star. We spent most of our time running around the sets as Stormtroopers , standing guard at doors or following Darth Vader around. In addition to Stormtroopers and Rebel Soldiers I also played a number of 'masked' Aliens."
―Richard Bonehill, from his personal website
Richard Bonehill was a British actor who played character extras in The Empire Strikes Back and Return of the Jedi, the second and third films of the Star Wars original trilogy. His film credits also include Top Secret! (1984), Rob Roy (1995), Frenchman's Creek (1998), and Jason and the Argonauts (2000). His television credits include Doctor Who.
Biography
Edit
Actor Richard Bonehill appeared in the final two films of the Star Wars original trilogy, primarily playing masked background extras.[1] Bonehill worked on Star Wars: Episode V The Empire Strikes Back for three weeks and Star Wars: Episode VI Return of the Jedi for six weeks.[2] Although uncredited for any of his roles in either film,[3] Bonehill is noted for playing a snowtrooper, a stormtrooper, and Rebel officer Palo Torshan in The Empire Strikes Back; and a stormtrooper, a Mon Calamari, an X-wing pilot, a TIE pilot, and named characters Nien Nunb, Ree-Yees, and Mosep Binneed in Return of the Jedi.[1]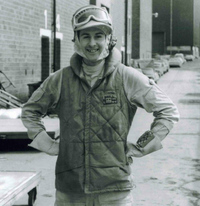 An expert horseman and swordsman, Richard worked in the film industry for 30 years as an actor, swordsman, double, fight director and sword master.
In 2010, Richard Bonehill was crowned 2010 Veterans World Sabre Champion at the 14th World Veterans Fencing Championships, which were held in Porec, Croatia in October. The event, the largest ever Veterans World Championships, attracted 610 top-class fencers—aged over 50—from 34 countries. Richard, who competed in the individual Sabre event, fenced on the penultimate day of the five-day championships. The ferocity of his attacks defeated top-ranked fencers from America, Germany, France and Italy to progress to the World Championship Final against the top-ranked American and former World Champion, Ray Sexton III.
Before the final Richard was presented with a commemorative diploma by Max Geuter, the representative of The Fédération Internationale D'Escrime—the world governing body of fencing—to mark his "extraordinary achievement" of representing Great Britain at 10 consecutive World Championships. Both Bonehill and Sexton have reputations as aggressive Sabreurs, and at the start of the final each tried to force the other onto the defensive with fast attacks. At the one-minute halftime break, Richard led by 5 hits to 4. In the second period of the bout Richard dominated the fight and commanded the piste denying Sexton a single hit. The final score was a decisive 10–4 victory to the Great Britain fencer. Richard (61) has won 44 championship titles in his fencing career. His previous best World Championship result was a bronze medal in 2008 in Lemoges. Commenting on his victory, Richard said, "I am always extremely proud to be chosen to represent Great Britain and to stand on the winners podium at The World Championships, and watch the Union Flag being hoisted with the National Anthem playing is a unique emotional experience."
By profession Richard was a sword master and fighting double for theatre, television and feature films. His career in films, which spanned over 30 years, has seen him cross swords with many famous names. His credits include Highlander, Star Wars, Rob Roy, The Count of Monte Christo, The Man in the Iron Mask, and Sharpe.
Notes and references
Edit
External links
Edit
Community content is available under
CC-BY-SA
unless otherwise noted.