"I was just one of a team of extras who worked on the Star Wars films. There was a hard core team of about 15 of us who worked continually on the films as different characters (mostly with masks or helmets on) who were then added to when there were larger scenes such as the massed guard of honour on the Death Star. We spent most of our time running around the sets as Stormtroopers , standing guard at doors or following Darth Vader around. In addition to Stormtroopers and Rebel Soldiers I also played a number of 'masked' Aliens."
―Richard Bonehill
Richard Bonehill was a British sword master and fighting double for theatre, television and feature films. He played character extras in The Empire Strikes Back and Return of the Jedi, the second and third films of the Star Wars original trilogy. His film credits also include Top Secret! (1984), Rob Roy (1995), Frenchman's Creek (1998), and Jason and the Argonauts (2000). His television credits include Doctor Who.
Actor Richard Bonehill appeared in the final two films of the Star Wars original trilogy, primarily playing masked background extras.[1] Bonehill worked on Star Wars: Episode V The Empire Strikes Back for three weeks and Star Wars: Episode VI Return of the Jedi for six weeks.[2] Although uncredited for any of his roles in either film, Bonehill is noted for playing a snowtrooper, a stormtrooper, and Rebel officer Palo Torshan in The Empire Strikes Back; and a stormtrooper, a Mon Calamari, an X-wing pilot, a TIE pilot, and named characters Nien Nunb, Ree-Yees, and Mosep Binneed in Return of the Jedi.[1]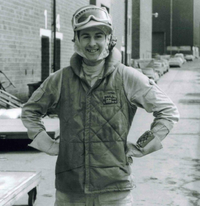 Community content is available under
CC-BY-SA
unless otherwise noted.