The Rihkxyrk (rik-zerk) Assault Fighter was a heavy assault fighter built by TransGalMeg Industries, Incorporated.[1]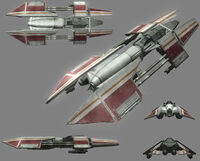 The Rihkxyrk was a relatively sluggish fighter, but this was compensated for by its good defenses and weapons loadout.[1] It was one of the most heavily armed and armored starfighters of the Rebellion era.[2]
The ship was used by the Black Sun organization as well as other criminal groups during the Galactic Civil War. The ship's tight defenses led to many Rihkxyrk pilots having a high sense of confidence in their own abilities as well as that of their ships, after surviving undamaged in many heavy conflicts.[1]
↑ 1.0 1.1 1.2 1.3 1.4 1.5 1.6 1.7 1.8 1.9  Ships: TransGalMeg "Rihkxyrk" on the official Star Wars Galaxies website (content now obsolete; backup link not available)
↑ 2.00 2.01 2.02 2.03 2.04 2.05 2.06 2.07 2.08 2.09 2.10 2.11 2.12 2.13 2.14 Rebellion Era Campaign Guide
↑  Star Wars Galaxies: Jump to Lightspeed—Space Mission: "Dathomir System : Transport Jabba's Gifts"
Community content is available under
CC-BY-SA
unless otherwise noted.