The Rihkxyrk (rik-zerk) Assault Fighter was a heavy assault fighter built by TransGalMeg Industries, Incorporated.[1]
Characteristics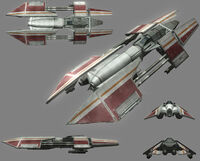 The Rihkxyrk was a relatively sluggish fighter, but this was compensated for by its good defenses and weapons loadout.[1] It was one of the most heavily armed and armored starfighters of the Rebellion era.[2]
History
The ship was used by the Black Sun organization as well as other criminal groups during the Galactic Civil War. The ship's tight defenses led to many Rihkxyrk pilots having a high sense of confidence in their own abilities as well as that of their ships, after surviving undamaged in many heavy conflicts.[1]
Appearances
Sources
Notes and references
↑ 1.00 1.01 1.02 1.03 1.04 1.05 1.06 1.07 1.08 1.09 1.10  Ships: TransGalMeg "Rihkxyrk" on the official Star Wars Galaxies website (content now obsolete; backup links)
↑ 2.00 2.01 2.02 2.03 2.04 2.05 2.06 2.07 2.08 2.09 2.10 2.11 2.12 2.13 2.14 2.15 2.16 Rebellion Era Campaign Guide
External links
Community content is available under
CC-BY-SA
unless otherwise noted.