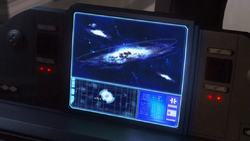 "No, no. It's beyond the outer rim. I'd say about twelve parsecs outside the Rishi Maze."
―Dexter Jettster, on the location of the planet Kamino
The Rishi Maze,[1] also known as Companion Aurek,[2] was an irregular[1] dwarf satellite galaxy[3] in a close and decaying orbit around the larger galaxy that was home to the Galactic Republic.[1] It was located twelve parsecs away from the planet Kamino, toward the galactic north.[4]
Community content is available under
CC-BY-SA
unless otherwise noted.