Wiki Targeted (Entertainment)
Play Sound
"Lab tech by day – artist by night, Robin is like a superhero with amazing powers (Looks good in hats!) and a secret identity, complete with lab coat and glasses. They are a trans-masculine, non binary artist based in the wilds of Canada. They've produced cartoons and artwork for the Official Star Wars Kids magazine, Starwars.com, Star Wars Insider […]"
―Robin Pronovost's "About" description on their website
Robin Pronovost is a former Star Wars artist who is best known for designing the Amaran and bursa species, and for both illustrating and co-writing Castaways of Endor with author Daniel Wallace. Pronovost created art tutorials and artwork for Star Wars magazines and the Star Wars Kids section of StarWars.com, and illustrated hundreds of Artist Sketch Cards for multiple trading card sets released by Topps.
Biography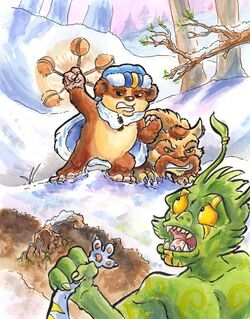 As an artist for Star Wars publications, Robin Pronovost illustrated online features, magazine articles, and trading cards.[1] Although they[3] are based in Canada, they have dual Canadian[1]–Australian citizenship.[2]
Pronovost's official Star Wars art includes cartoons and game illustrations for two versions of Star Wars Kids magazine, both The Fan Club, Inc.'s version and the second Scholastic Inc. version. They produced the art tutorial "How to Draw Admiral Ackbar" for Star Wars Insider 92 and several other drawing tutorials for the Star Wars Kids section of StarWars.com.[1] Their artwork was featured as Artist Sketch Cards in multiple trading card sets released by Topps, beginning with 2005 Topps Star Wars: Revenge of the Sith.[4] Since their last Star Wars work in 2012,[5] they have worked as a medical laboratory technologist.[6]
Amaran and bursa designs
While author Daniel Wallace was working on The Essential Guide to Episode I, an announced reference book that was in development from 1999 to 2000, he requested that Pronovost design the bursa species based on one of George Lucas's undeveloped notes that the Gungans might have kept their army due to a past conflict against "bear-like creatures." Pronovost also designed the Amaran species for the planned book[7] when Wallace requested a fox alien species. The pair decided that this species should be called Amarans after "Amara," Pronovost's fursona that they created as a university student and utilized in their email address at the time.[8]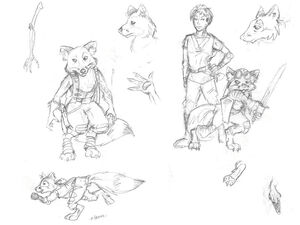 The book was eventually cancelled, but Pronovost's work inspired the canonical Expanded Universe depictions of Amarans and bursas by Terryl Whitlatch in the 2001 reference book The Wildlife of Star Wars: A Field Guide, which was illustrated and co-written by Whitlach.[9] Bursas also appeared in the 2001 video game Star Wars: Galactic Battlegrounds,[7] and in its 2002 expansion pack, Clone Campaigns.[10] Pronovost later shared their original Amaran designs and non-canonical backstory on their blog for personal use in roleplaying games.[9]
Outlets such as Wookieepedia observed the similarities between the names "Amaran" and Pronovost's email username "amara," but the artist claimed that it was coincidental. Their denials were due to concerns that attitudes towards the furry fandom would result in negative impacts on their professional career. When this did not occur as they had feared, they subsequently shared the truth.[8]
Castaways of Endor
"Eight years ago, Dan Wallace approached me with an awesome idea - co writing an article about the inhabitants of the forest moon of Endor, based on Pablo's shipwreck colony theory. Being the ewoks fan I am, I accepted and by february 2001, the article was approved, we had illustration pitch sketches out and then Star Wars Gamer ceased publication. D'oh."
―Robin Pronovost, in a 2008 blog post about Castaways of Endor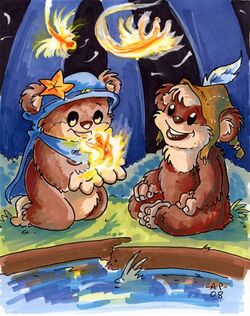 Beginning in 2001, Pronovost and Wallace collaborated again on writing the article Castaways of Endor, with Pronovost also providing illustrations for the story. Both writers developed information and roleplaying details for several species from the cartoon Ewoks, a favorite of both growing up, with inspiration drawn from the ongoing feature The University of Sanbra Guide to Intelligent Life in the magazine Star Wars Gamer.[11] The article would be based on a shipwreck colony theory originated by[12] Pablo Hidalgo.[13]
Pronovost was largely responsible for the sections on the Duloks and the Jindas. In researching the latter, Pronovost discovered that A Guide to the Star Wars Universe, Third Edition, Revised and Expanded described the Jinda leader Bondo as an Ewok despite numerous visual differences between the two species in the Ewoks cartoon; additionally, Jindas were depicted with Ewok models in the video game Star Wars Galaxies. The discrepancies were ultimately reconciled within the article[14] by establishing that the Jindas seen in Ewoks were just one tribe out of several non-Endorian species that had been stranded on Endor, and that some stay-at-home Ewoks used the term "Jinda" as a disparaging term for Ewoks who were nomadic.[15]
According to Wallace, the pair pitched the article for Star Wars Insider and it was rejected, then it was repackaged for Star Wars Gamer prior to that magazine's cancellation, and another Insider pitch was attempted before StarWars.com purchased it as a Hyperspace exclusive.[14] Castaways of Endor was finally released, minus the gaming elements, in 2008.[15] In a StarWars.com blog post, Pronovost wrote that during the eight years it went unpublished, the article was in limbo in their e-mail archives and survived two hard drive crashes.[12]
Published works
| Year | Title | Contribution | Notes |
| --- | --- | --- | --- |
| 1999 | Star Wars Kids 5 | "Star Wars License Plate Game" | Darth Maul cartoon; The Fan Club, Inc.[16] |
| 1999 | Star Wars Kids 1 | "Star Wars License Plate Game" | Darth Maul cartoon; Scholastic Inc.;[17] first published in The Fan Club, Inc.'s Star Wars Kids 5[16] |
| 1999 | Star Wars Kids 4 | "Star Wars Funnies" | Scholastic Inc.[18] |
| 2000 | Star Wars Kids 8 | "Star Wars Funnies" | Scholastic Inc.[19] |
| 2000 | Star Wars Kids 8 | "Star Wars Funnies" | The Fan Club, Inc.;[20] first published in Scholastic Inc.'s Star Wars Kids 8[19] |
| 2005 | Star Wars Kids on StarWars.com | "Drawing Boga" | Art tutorial for Boga[21] |
| 2005 | Star Wars Kids on StarWars.com | "Drawing Tarfful" | Art tutorial for Tarfful[22] |
| 2005 | Star Wars Kids on StarWars.com | "Revenge of the Halloween Masks" | Printable Boga mask[23] |
| 2005 | 2005 Topps Star Wars: Revenge of the Sith | Artist Sketch Cards | Approximately 200 cards, not individually named/numbered[4] |
| 2006 | Star Wars Kids on StarWars.com | "Drawing Kit Fisto" | Art tutorial for Kit Fisto[24] |
| 2006 | Star Wars Kids on StarWars.com | "Drawing an Ewok" | Art tutorial for an Ewok[25] |
| 2006 | Star Wars Kids on StarWars.com | "Drawing Hammerhead" | Art tutorial for Momaw Nadon[26] |
| 2007 | Star Wars Insider 92 | "How to Draw Admiral Ackbar" | Art tutorial for Admiral Gial Ackbar[27] |
| 2007 | Star Wars Kids on StarWars.com | "Drawing Gonk the Power Droid" | Art tutorial for a GNK power droid[28] |
| 2007 | 2007 Topps Star Wars 30th Anniversary | Artist Sketch Cards | 156 cards, not individually/numbered[29] |
| 2008 | Castaways of Endor—Hyperspace | Co-writer and artist | With co-writer Dan Wallace[15] |
| 2008 | 2008 Topps Star Wars: The Clone Wars | Artist Sketch Cards | Multiple cards, not individually named/numbered[30] |
| 2009 | 2009 Topps Star Wars Galaxy Series 4 | "Night of the Red Ghost" | Base series card[31] |
| 2009 | 2009 Topps Star Wars Galaxy Series 4 | Artist Sketch Cards | 100 cards, not individually named/numbered[32] |
| 2009 | Star Wars Kids on StarWars.com | "Drawing Biohazard Suit Jar Jar" | Art tutorial for Jar Jar Binks in a biohazard suit[33] |
| 2009 | 2009 Topps Star Wars: The Clone Wars Widevision | Artist Sketch Cards | Multiple cards, not individually named/numbered[34] |
| 2010 | 2010 Topps Star Wars Galaxy Series 5 | Artist Sketch Cards | Multiple cards, not individually named/numbered[35] |
| 2010 | Star Wars Kids on StarWars.com | "Drawing Jaxxon" | Art tutorial for Jaxxon[36] |
| 2010 | 2010 Topps Star Wars: The Clone Wars Rise of the Bounty Hunters | Artist Sketch Cards | Multiple cards, not individually named/numbered[37] |
| 2011 | 2011 Topps Star Wars Galaxy Series 6 | Artist Sketch Cards | Multiple cards, not individually named/numbered[38] |
| 2012 | 2012 Topps Star Wars Galactic Files Series 1 | Artist Sketch Cards | Multiple cards, not individually named/numbered[5] |
| Cancelled | The Essential Guide to Episode I | Species designs | With Dan Wallace[7] |
Bibliography
Notes and references
↑ 1.0 1.1 1.2 1.3 1.4 Pronovost, Robin: About. Art by Robin Pronovost. Archived from the original on October 21, 2020.
↑ 2.0 2.1 Robin Pronovost (@artyewok) on Twitter: "2016 marks 20 years since I left Australia. Did you know I'm a dual Aussie/Canuck citizen" (backup link)
↑ Pronovost, Robin: New site, who dis? (2020-06-16). Art by Robin Pronovost. Archived from the original on November 30, 2020.
↑ 4.0 4.1 2005 Topps Star Wars: Revenge of the Sith – Artist Sketch Cards
↑ 5.0 5.1 2012 Topps Star Wars Galactic Files Series 1 – Artist Sketch Cards
↑ Pronovost, Robin: Greetings fellow lab folk! (2020-08-04). Art by Robin Pronovost. Archived from the original on March 5, 2021.
↑ 7.0 7.1 7.2  "Lostwords: The Essential Guide to Episode I" – Continuity, Criticisms, and Captain Panaka, Daniel Wallace's StarWars.com Blog (content now obsolete; archived from the original)
↑ 8.0 8.1 Robin Pronovost (@artyewok) on Twitter (backup link)
↑ 9.0 9.1 Pronovost, Robin: Amarans Backstory and History (2010-01-31). Art by Robin Pronovost. Archived from the original on January 23, 2021.
↑  "'Castaways of Endor,' New Article on StarWars.com" – Continuity, Criticisms, and Captain Panaka, Daniel Wallace's StarWars.com Blog (content now obsolete; archived from the original)
↑ 12.0 12.1  "Castaways of Endor" – Pronovost's Artyewoktastic Blog, Robin Pronovost's StarWars.com Blog (content now obsolete; archived from the original)
↑ Robin Pronovost (@artyewok) on Twitter: "It is M. Hidalgo!" (backup link)
↑ 14.0 14.1 Castaways of Endor sees the light of day on the Jedi Council Forums (Literature board) (backup link)
↑ 15.0 15.1 15.2  Castaways of Endor on Hyperspace (article) (content removed from StarWars.com and unavailable)
↑  Drawing Boga on StarWars.com (content now obsolete; backup link)
↑  Drawing Tarfful on StarWars.com (content now obsolete; backup link)
↑  Revenge of the Halloween Masks on StarWars.com (content now obsolete; backup link)
↑  Drawing Kit Fisto on StarWars.com (content now obsolete; backup link)
↑  Drawing an Ewok on StarWars.com (content now obsolete; backup link)
↑  Drawing Hammerhead on StarWars.com (content now obsolete; backup link)
↑  Drawing Gonk the Power Droid on StarWars.com (content now obsolete; backup link)
↑ 2007 Topps Star Wars 30th Anniversary – Artist Sketch Cards
↑ 2008 Topps Star Wars: The Clone Wars – Artist Sketch Cards
↑ 2009 Topps Star Wars Galaxy Series 4 – Artist Sketch Cards
↑  Drawing Biohazard Suit Jar Jar on StarWars.com (content now obsolete; backup link)
↑ 2009 Topps Star Wars: The Clone Wars Widevision – Artist Sketch Cards
↑ 2010 Topps Star Wars Galaxy Series 5 – Artist Sketch Cards
↑  Drawing Jaxxon on StarWars.com (content now obsolete; backup link)
↑ 2010 Topps Star Wars: The Clone Wars Rise of the Bounty Hunters – Artist Sketch Cards
↑ 2011 Topps Star Wars Galaxy Series 6 – Artist Sketch Cards
External links