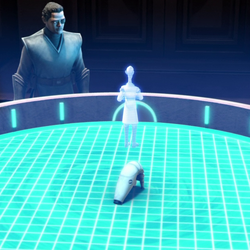 "Maybe this tactical droid will tell us how they knew our plan."
―Clone Captain CT-7567, preparing to perform a robolobotomy on TJ-55's captured cranial unit
A robolobotomy was a computer procedure performed on a droid's cranial unit to extract data from its data bank.
"We did a robolobotomy on the battle droids and came up with this piece of memory."
―Gregar Typho, accessing a holorecording of Dr. Nuvo Vindi
Robolobotomy was used on the T-series tactical droid TJ-55 on Christophsis to gather more information about stolen intelligence, but was unsuccessful.[1] Gregar Typho also performed the procedure on a B1 battle droid to gain information on Dr. Nuvo Vindi and his Blue Shadow Virus bombs.[2]
Appearances
Edit
Notes and references
Edit
Community content is available under
CC-BY-SA
unless otherwise noted.