The rockhopper was a bipedal riding animal.
Rockhoppers were believed to be a genetic cousin of the Cracian thumper, which had evolved from transplanted flocks from their homeworld. They had a horse-like face and mane, short forelimbs, and a long, thick tail to maintain balance.[1] Rockhoppers lacked the claws of their Cracian ancestors, but had very strong jaws filled with sharp teeth.[3]
They were most commonly found on Roon, although specimens of them could also be found on the world of Biitu in the Outer Rim.[3]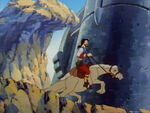 Rockhoppers were used as domesticated riding animals for personal transport as well as sporting events. They were ridden in the Drainsweeper event of the Roon Colonial Games on Roon.[1]
On Biitu, they were used as riding animals.[2]
Adam Swiftgale, a pilot for the Alliance to Restore the Republic, was a rockhopper jockey.[4]
Behind the scenes
Edit
Their appearance was similar to that of Cracian thumpers, perhaps suggesting a common descent. This was confirmed in The Unknown Regions, where it was stated that the Rockhopper was believed to be a genetic cousin of the Cracian thumper.
Appearances
Edit
Notes and references
Edit
Community content is available under
CC-BY-SA
unless otherwise noted.