Ronto Roasters was a quick service restaurant specializing in exotic meats,[3] located on the Outer Rim world of Batuu. Nestled within the market of Black Spire Outpost,[1] Ronto Roasters was operated by noted podracing fan Bakkar, who decorated the establishment with a number of podracing flags and installed a modified podracer engine at the restaurant's center. Bakkar's modified engine was used to cook large slabs of ronto meat, and roast whole nunas.[2] Each item was skewered on a mechanized rotisserie spit[3] that was slowly turned by the former smelter droid known as 8D-J8.[4]
The air around Ronto Roasters smelled of grilled meat, and the restaurant was a favorite of starship crews preparing for their next mission.[3] Among the items served at Ronto Roasters were entrées such as the ronto wrap and its breakfast variant, in addition to the Rising Moons Overnight Oats dish. The establishment also sold a selection of Nuna Turkey Jerky, including sweet and spicy varieties. Ronto Roasters offered customers a variety of beverages including caf, Black Spire Hot Chocolate, Coca-Cola, Diet Coke, Meiloorun Juice, Sour Sarlacc, Sprite, Tatooine Sunset, or simply bottled water.[5][3]
Ronto Roasters was first introduced to Star Wars canon as part of the Star Wars: Galaxy's Edge attraction at Disneyland Park and Disney's Hollywood Studios Park. There, Ronto Roasters operates as a real restaurant, where visitors to the park can purchase a variety of small meals, snacks, and drinks.[5]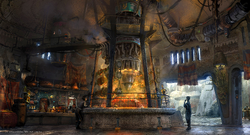 ↑ 2.0 2.1 Amy Ratcliffe (2019-02-27). What You Can Eat and Drink in STAR WARS: Galaxy's Edge. Nerdist. Archived from the original on February 28, 2019. Retrieved on February 27, 2019.
↑ 3.0 3.1 3.2 3.3 What You Can Eat and Drink in STAR WARS: Galaxy's Edge. The Walt Disney Company. Archived from the original on August 28, 2019. Retrieved on June 22, 2019.
↑ Building Batuu: New Details Released about Star Wars: Galaxy's Edge on the Disney Parks Blog (backup link)
Community content is available under
CC-BY-SA
unless otherwise noted.