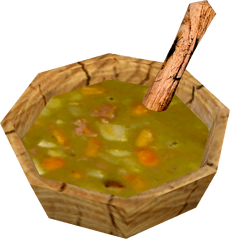 "Eat, eat. Hot. Good food, hmm?"
―Yoda, while serving Luke Skywalker rootleaf stew
Rootleaf stew was a favorite meal of Jedi Master Yoda during his exile on Dagobah. It was a staple of his diet, supplemented by yarum seeds, mushroom spores, galla seeds, and sohli bark. Yoda prepared rootleaf stew the evening that he met Luke Skywalker.
Sometime following 0 BBY, a facsimile of rootleaf stew was available to spacers throughout the galaxy. It appeared to be made of a rich assortment of the swamp planet's unique flora. However, it was in fact made from fiberplast.[2]
In an unusual promotional campaign for the Empire Strikes Back radio dramatization, National Public Radio hired Craig Claiborne, a renowned chef and food critic, to create a version of rootleaf stew that could be made with ingredients originating from Earth. The recipe was published in newspapers and magazines across the United States.
Community content is available under
CC-BY-SA
unless otherwise noted.