Rusel DeMaria is an author of several computer game strategy guides. He wrote The Farlander Papers and The Stele Chronicles which were included with, and told the backstory to, Star Wars: X-Wing and Star Wars: TIE Fighter respectively. These were later expanded by DeMaria in X-Wing: The Official Strategy Guide and TIE Fighter: The Official Strategy Guide. He is also the author of Super Star Wars Official Game Secrets and Super Empire Strikes Back Official Game Secrets.
Biography
[
]
Rusel DeMaria's first experience of video games came in 1967, when he played Spacewar! at Stanford University, and his enjoyment of games grew after Atari released Pong in 1972. He became a professional author in 1981, writing his own newspaper column and overseas magazine columns, as well as articles for a variety of publications, including some dedicated to games. He started writing for Computer Play magazine in 1989 and became the magazine's Executive Editor before it ceased publication. However, his time at the magazine helped him become Senior Editor of Personal Computer Games and a Contributing Editor for GamePro by 1990.[1]
In 1990, DeMaria founded Prima Publishing's strategy-guide division, originally Secrets of the Games but later renamed Prima Games, with Ben Dominitz and served as its Creative Director for the next six years. During this time, he wrote numerous strategy guides, including Myst: The Official Strategy Guide, which sold over one million copies, and experimented with different styles of writing and layout which have since become common in strategy guides.[1]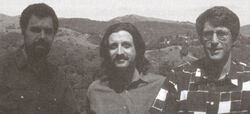 When Lawrence Holland and Edward Kilham began working on the 1993 LucasArts video game Star Wars: X-Wing, DeMaria was brought into the project early to write The Farlander Papers, a novella that was included with the game and told the story of player character Keyan Farlander's first mission as a Rebel starfighter pilot.[2] Following the release of the game, DeMaria co-authored X-Wing: The Official Strategy Guide with the game's mission designers, David Wessman and David Maxwell. The strategy guide contained strategies for every mission in the game and continued Farlander's story. It also provided much early information on the workings of the Alliance Starfighter Corps.
When LucasArts released the sequel to X-wing, Star Wars: TIE Fighter, in 1994, DeMaria was once more involved in the project, authoring The Stele Chronicles, a second novella telling the story of the game's main character, Maarek Stele. He once more teamed up with Wessman and Maxwell to produce TIE Fighter: The Official Strategy Guide, in which he continued Stele's story.
DeMaria left Prima Games in 1996, though he continues to write strategy guides intermittently. He now works as Assistant Director to David Perry at Game Consultants, as well as being a Design Consultant for Acclaim Games.[1]
In 2002, DeMaria co-wrote High Score!: The Illustrated History of Electronic Games with Johnny Lee Wilson, and he later wrote 2007's Reset: Changing the Way We Look at Video Games. He has been a guest on numerous television and radio shows and has spoken at several game conferences. He has also spent time as a professional musician, though he no longer performs. In his spare time, DeMaria is a professional mediator and a tree-climbing guide and practices Tai Chi.[1]
Sources
[
]
Star Wars

[

]
Other

[

]
| Title | Year | Format | Publisher |
| --- | --- | --- | --- |
| Prince of Persia: The Official Strategy Guide | 1993 | Strategy guide | Prima Games |
| The 7th Guest: The Official Strategy Guide | 1993 | Strategy guide | Prima Games |
| Secret of Mana Official Game Secrets | 1993 | Strategy guide | Prima Games |
| Myst: The Official Strategy Guide (with Rick Barba) | 1995 | Strategy guide | Prima Games |
| Asheron's Call: Official Strategies & Secrets | 1999 | Strategy guide | Sybex |
| High Score!: The Illustrated History of Electronic Games (with Johnny Lee Wilson) | 2002 | Reference book | McGraw-Hill |
| Reset: Changing the Way We Look at Video Games | 2007 | Reference book | Berrett-Koehler |
Notes and references
[
]
External links
[
]