Russell G. Chong is a veteran artist/conceptual designer for Star Wars: The Clone Wars at Lucasfilm Animation. Some of his credits include Batman: The Animated Series, Titan A.E., HBO's Spawn, Battlestar Galactica, and the Star Wars: Clone Wars miniseries.
"The Y-wing was a really fun project, bringing it back fully faired. I back-engineered the Y-wing "fighter" and returned to a bomber configuration. I took images of the actual episode 4 model from the archives at Lucasfilm, and overlaid and designed our new version. We revitalized the bubble turret that Colin Cantwell and Ralph McQuarrie had developed. The cockpit fuselage radii are very much the same as the original and it has the same design cues and basic details as the original Y-wing."
―Chong on his work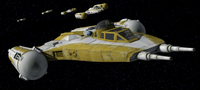 For the Y-wing's return to the screen in the animated television series Star Wars: The Clone Wars, designer Russell Chong spearheaded the ship's development.
The Malevolence was originally based on concept art for a Separatist communications ship meant for use in Star Wars: Episode III Revenge of the Sith. The finished version was designed by Russell Chong, and is based upon the Rebel GR-75 medium transport.
Community content is available under
CC-BY-SA
unless otherwise noted.