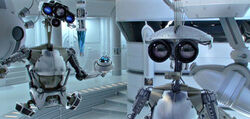 The SP-4 was an analysis droid that was employed by the Jedi Archives.
SP-4 was employed by the Jedi Archives to provide analysis assistance to Jedi with mysteries they could not solve. The SP-4 was built by Cybot Galactica and stood 1.46 meters tall. The droid uses many of the same parts that are used in the cheaper PK-4 worker droid. The models that were used in the Jedi Temple were upgraded with sensory apparatus and behavioral circuitry matrices, far beyond the capacities of the PK-4. The SP-4 was designed to have more intelligence than the average worker droid, this was supplemented by a wireless tie in to computers of the Jedi Archives, giving it the knowledge of millennia of Jedi exploration. SP-4 was also equipped with a mouth-stalk like vocoder, that allows it to communicate with organic beings, and suggests that their was a Pa'lowick that had a hand in designing the droid.
Behind the Scenes
The SP-4 was also depicted as the medic for the Republic civilization in Star Wars: Galactic Battlegrounds: Clone Campaigns.
Appearances
External link