In lightsaber combat, sai was a jump used by Jedi and other Force-users to evade an attack directed at the legs.
Methodology and Examples
Edit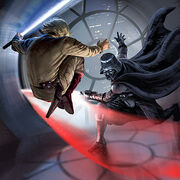 While the primary purpose of the sai was to simply overleap an attack, it could also be applied tactically, such as facilitating retreat or counter-attack. What action the duelist performed depended on the way he jumped, the Force being the main backbone of the strength, height, and speed at which the jump was executed.[1]
For counter-attacking, the sai provided several options. The most common was to use the fall as the fulcrum for an overhand blow, a maneuver demonstrated by Darth Vader during his duel with Roan Shryne.[2] Another method of countering involved simply using the height of the jump to attack from above, an example being Kit Fisto's midair cartwheeling during his duel with Grievous, allowing him to cut at the cyborg.[3] Dooku demonstrated a more passive variation of this method during his bout with Obi-Wan Kenobi, flourishing his blade as he leapt to drive back Kenobi.[4]
The sai has also been applied in more tactical functions, for retreating or outflanking opponents. A technique demonstrated by Luke Skywalker during his duel with Darth Vader involved leaping above the opponent and attacking from behind.[5] This method became associated with the Ataru combat form. However, it was not without risk, as the opponent could simply stab upward while the duelist was above them.[6] The sai has also been applied to allow for retreat, the duelist simply leaping away when they overleapt the attack, as shown by Luke Skywalker's retreat from Vader during their rematch, leaping onto an overhead gantry.[7]
Even a non Force-sensitive could use sai such as Durge against Anakin Skywalker in their last fight and Jango Fett on Galidraan against Myles' killer.
Appearances
Edit
Notes and references
Edit
Community content is available under
CC-BY-SA
unless otherwise noted.