Wiki Targeted (Entertainment)
Play Sound
Sandstorm is a twelve-page comic appearing in Star Wars Tales 15 and collected in Star Wars Tales Volume 4.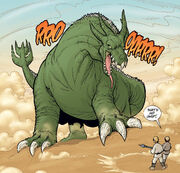 On Tatooine, Owen and Beru Lars discuss their 10 year old nephew Luke Skywalker. Owen has refused to tell Luke more about his father, and in anger Luke runs away. Unfortunately, a sandstorm moves in at the same time, and soon Luke is lost in the desert. He has a vision of a tall dark figure, and shortly afterwards meets a young boy named Annie. The two boys realize they have much in common—neither knows much about their father, they are both great pilots, they both want to leave Tatooine some day, and they can sense things before they happen. They soon discover a Tusken Raider buried in the sand, and taking his gaffi stick they seek shelter in a nearby cave. A pack of womp rats drives them back out into the storm, where they stumble upon a red and white astromech droid. Annie rigs up the astromech's motivator to explode, sending up a flare. This attracts the attention of a krayt dragon, who attacks the two boys. Luke loses sight of Annie, and on instinct throws the gaffi stick into the throat of the dragon, killing it. Luke falls unconscious. When Owen and a rescue party find him later, there is no sign of the krayt dragon or Annie. Luke is certain it was more than just a dream, and Owen knows there is something special about his nephew.
By type
Characters
Creatures
Droid models
Locations
Organizations and titles
Sentient species
Vehicles and vessels
Weapons and technology
Miscellanea
Community content is available under
CC-BY-SA
unless otherwise noted.