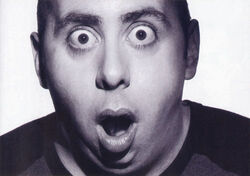 Scott Chernoff is a writer, editor, and performer who has worked extensively for official Star Wars publications, most notably Star Wars Insider magazine, where he was a writer and Managing Editor. He also wrote regularly for Star Wars Kids and contributed to Star Wars Galaxy Magazine and StarWars.com.
He is the author of the 2002 book The Stars of Star Wars and has served as an onstage host at three Star Wars Celebrations.
Chernoff is also a comedy writer and performer known for his work on Rick and Morty, BoJack Horseman, Hot Streets, Conan, and School of Rock, among others.
Star Wars Magazines and Books

[

edit

|

edit source

]
Chernoff wrote his first article for Star Wars Insider 30 in 1996, a humorous interview of three ordinary individuals who have never seen the first three Star Wars movies before, called Guilty: Of Having Never Seen Star Wars. After that, he became a regular writer in every subsequent issue of Star Wars Insider from Star Wars Insider 30 through Star Wars Insider 60 in 2002.
For the Insider, Chernoff became known for his interviews with the biggest names in the Star Wars universe, as well as the character actors who played small parts in the original trilogy. He profiled those lesser-known performers in a regular column called In the Star Wars Universe, in which he treated the people who played characters like Lobot, Greedo, and Mon Mothma with as much reverence as he did the major celebrities he interviewed. (Among those he interviewed: George Lucas, Frank Oz, Harrison Ford, Billy Dee Williams, Samuel L. Jackson, James Earl Jones, Natalie Portman, Anthony Daniels John Williams, Lawrence Kasdan, and Irvin Kershner.)
Chernoff also specialized in humorous pieces for Star Wars Insider, such as his regular column Dear 2-1B, in which 2-1B, the medical droid from Star Wars: Episode V The Empire Strikes Back, answers reader questions and rants angrily about being the unsung hero of the Star Wars saga. Chernoff also wrote many pop-culture pieces, covering the way Star Wars was depicted or referenced on The Simpsons, The Muppet Show, The Onion, and more.
In 1998, Chernoff became Managing Editor of Star Wars Insider, running the magazine and directing its editorial content. In 2001, he stepped back to Contributing Editor before leaving the magazine in 2002 to pursue a career in television.
Chernoff was a regular contributing writer to Star Wars Kids, writing the Ask R2-D2 About The Prequels column and profiles of Star Wars actors such as Mark Hamill, Carrie Fisher, Liam Neeson, Denis Lawson, and many more. He wrote at least one piece for Star Wars Galaxy Magazine and covered the red-carpet premiere of The Star Wars Trilogy Special Edition for StarWars.com in 1997. His articles were frequently published in the official Star Wars magazines in Japan, England, Spain, Germany, and France.
In 2002, Chernoff penned the book The Stars of Star Wars for LucasBooks and Random House. The book coincided with the release of Star Wars: Episode II Attack of the Clones and featured new interviews with the movie's entire cast and crew, including George Lucas, Rick McCallum, Samuel L. Jackson, and Natalie Portman.
Chernoff was an onstage host/MC for three of the first four Star Wars Celebrations, interviewing cast and crew before large audiences of fans and attendees, beginning in 1999 with Celebration in Denver, Colorado. He hosted Stage B, while Anthony Daniels hosted Stage A. Chernoff returned for 2002's Celebration II in Indianapolis and Celebration IV in Los Angeles in 2007.
Outside Star Wars, Scott Chernoff is also a comedy writer, actor, and voice-over performer, known primarily for his work on Conan, Jimmy Kimmel Live, The Sarah Silverman Program, BoJack Horseman, and the Adult Swim shows Rick and Morty, Hot Streets, and Tom Goes to the Mayor. He is an alumnus of the famed Groundlings comedy theater in Los Angeles, and is a standup and sketch comedy performer in Los Angeles.
Chernoff was a staff writer for the TV version of School of Rock from 2016 to 2018, and Conan O'Brien's TBS talk show Conan, where he worked from 2010 to 2013. He also co-wrote two episodes of the Netflix animated comedy BoJack Horseman. Before that, he created comedy videos for The Tonight Show with Conan O'Brien in 2009–10, was a writer for MTV's Big Urban Myth Show, and worked behind the scenes at Jimmy Kimmel Live. He has written, directed, and produced comedic web series for Adult Swim, Comedy Central, MTV, JibJab, and Channel 101.
Scott Chernoff's voice can be heard as the recurring character Gear Head on Rick and Morty, as well as Agent French, one of the leads of Adult Swim's animated comedy Hot Streets. He has also performed voice work for Adult Swim's Zurtrun and Fine Brothers Entertainment's Emo Dad, for which he voices the title character.
As an actor, Chernoff has appeared on such TV shows as Playing House, Tom Goes to the Mayor, The Sarah Silverman Program (five episodes), and The Dish, as well as over 30 sketches on Jimmy Kimmel Live, and numerous national TV commercials. He played the villain Gannon in the popular internet comedy series The Legend of Neil.
Community content is available under
CC-BY-SA
unless otherwise noted.