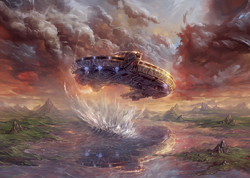 A scout ship[1] (also spelled scout-ship)[2] was any starship employed in exploration or reconnoitering.
When the Galactic Republic expanded from the Core, they sent such ships to explore new areas of space.[1] During the reign of Emperor Palpatine, the First Galactic Empire created a prototype scout ship, the Star Herald.[2] The Galactic Empire also made use of the TIE scout, a starfighter model of the TIE line, for reconnaissance missions.[3] The JumpMaster 5000 was another ship designed for long-distance reconnaissance missions and scouting new hyperlane routes.[4]
↑  Star Wars: X-Wing Second Edition – Scum and Villainy Conversion Kit (Card: Contracted Scout—JumpMaster 5000)
Community content is available under
CC-BY-SA
unless otherwise noted.