A scout squadron was a formation of the Imperial Army.
OrganizationEdit
A scout squadron was comprised of two lances of five scouts each, with a lieutenant replacing the sergeant in the command lance.[1]
The larger scout platoon was made up of a scout squadron commanded by the lieutenant, and two line squads led by a sergeant major. Although the lieutenant was officially in charge of the entire platoon, tradition left the "grunts" almost exclusively to the sergeant major, while the lieutenant handled the squadron.[1]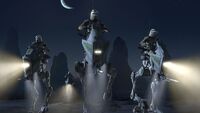 Lightning Squadron was a scout squadron attached to the 91st Mobile Reconnaissance Corps.[3]
This elite recon unit consisted of 10 soldiers specially trained to operate All Terrain Recon Transports. The group was commanded by a lieutenant and could be divided into two lances of five soldiers, each led by a sergeant. A brevet corporal was second in command of each lance.[3]
During the Galactic Civil War, new challenges prompted Lightning Squadron to incorporate other vehicles, such as the All Terrain Personal Transport and the 74-Z speeder bike.[3] Despite the fact that most Imperial scouts operated speeder bikes, the members of Lighting Squadron still preferred to use their AT-RT walkers.[2]
Order of Battle organizational chartEdit


A scout platoon consisted of a scout squadron and two line squads
AppearancesEdit
Notes and referencesEdit