"Sebastian Shaw was the kind of character actor who could rise to any dramatic occasion. Whether in films, plays, television or on the radio, his unobtrusive manner, sharp intelligence, tactful style and polished technique gave all his work a quiet distinction."
―Adan Benedick
Sebastian Shaw (May 29, 1905–December 23, 1994) was an English stage, film, television and radio actor, as well as a director, novelist, playwright and poet. Over the course of his 65-year career, Shaw appeared in more than 40 film and television productions, but was mostly known for his dozens of stage performances. A self-described "rotten actor" as a youth, Sebastian claimed to mature as a performer after returning from service in the Royal Air Force during World War II. Shaw was particularly known for his performances in William Shakespeare productions, which were considered daring and ahead of his time. He also wrote a novel, The Christening, in 1975.
One of Shaw's more famous roles is his brief but important performance in Return of the Jedi, in which he portrayed a redeemed Anakin Skywalker during the moment aboard DS-2 Death Star II Mobile Battle Station when Luke Skywalker unmasks his dying father. Due to the extreme secrecy demanded by Star Wars creator George Lucas, Shaw knew no details of his part until he was guaranteed to play the role, and was forbidden from discussing it with anyone, even his family and friends, until after the theatrical release. Sebastian Shaw died of natural causes at age 89 in 1994. Ten years later, his image as a Force ghost during the final scene of Return of the Jedi was replaced with that of prequel actor Hayden Christensen for the movie's 2004 DVD re-release.
"We'll discuss it some more, and argue, and read the lines one more time…and then finally we'll throw our books away and let go and just do the bloody thing."
―Sebastian Shaw, about learning the acting process
Sebastian Lewis Shaw was born at Holt, Norfolk in England on May 29, 1905. His father, Dr. Geoffrey Shaw, was the music master at Gresham's School, a North Norfolk independent coeducational boarding school, where Sebastian Shaw began his education.[1] His uncle, Martin Shaw, was a composer of church music, and his family's love of music heavily influenced Sebastian Shaw's future career path.[3] Shaw made his acting debut at age eight on the London stage as one of the juvenile band in The Cockyolly Bird at the Royal Court Theatre in the Royal Borough of Kensington and Chelsea[1] on New Year's Day of 1914.[3] During his time at Gresham's, he also played Petruchio in The Taming of the Shrew, his first of many performances from the works of William Shakespeare; classmate W.H. Auden, who would go on to become a highly regarded poet, played Katherina in the play opposite Shaw. After Gresham's, Shaw planned to become a painter and spent two years at the Slade School of Fine Art before switching his interests to acting; regarding the change, his father said to Shaw, "I wondered when you would come to your senses."[3] Shaw earned a scholarship to the Royal Academy of Dramatic Art in Bloomsbury, London.[1] Actor Charles Laughton enrolled in the Academy the same time as Shaw; Shaw later said his first impression of Laughton was "a poor fat boy"[4] and said his fellow students initially felt sympathetic toward him, until they were quickly impressed with his talent.[4]
"I'm not a confirmed traditionalist. There was little experiment when I first came here. If you keep on doing Shakespeare the way his plays have always been done, people get bored."
―Sebastian Shaw
Shaw appeared in regional theatres in Bristol, Liverpool, and Hull. In 1925, he performed in London as the Archangel in The Sign of the Sun, and played first Lewis Dodd and then the Major in separate productions of The Constant Nymph.[2] Shaw received instruction in verse speaking under famed theatre director William Bridges-Adams in the Stratford Festival Company at Stratford-upon-Avon,[3] where he played some of his early Shakespeare roles, including Romeo Montague in Romeo and Juliet, Ferdinand in The Tempest and Prince Hal in Henry IV in 1926. Shaw was criticized for the audacity he displayed in the latter role. When Prince Hal takes on his kingship and rejects the self-indulgent character Falstaff, convention of the day called for Prince Hal to change from a jovial drinking partner to an arrogant snob, but Shaw saw the view as simple-minded and contradictory toward Shakespeare's script. Instead, Shaw displayed inward regrets toward leaving Falstaff and accepting the new responsibilities. The interpretation was criticized at the time but, years later, critics would say it became the accepted approach to the character.[5]
Shaw made his Broadway debut in 1929, when he created the role of Wyndham Brandon, one half of a duo of homosexual murderers in Patrick Hamilton's stage thriller Rope's End; although he played the role in New York, he was passed over when the show moved to London. In 1929, Shaw married Margaret Delamere and lived with her in the Albany, an apartment complex off of Piccadilly in London.[1] Shaw would return to the works of William Shakespeare in 1931, playing Claudio in Measure for Measure at London's Fortune Playhouse. In 1932 he once again played Romeo at the Embassy Theatre.[2] Other works around this period included productions of Ivor Novello's Sunshine Sisters in 1933; Double Door alongside actress Sybil Thorndike in 1934; J.M. Barrie's A Kiss for Cinderella in 1937; and Robert Morley's Goodness, How Sad! in 1938.[3]
"I'm a great movie buff and I love to watch movies. My great god of all screen actors was Spencer Tracy. When I was making movies in a big way, I used to see his films and would feel very depressed. I thought, 'Well, if he can do it like that so easily, what the hell am I doing, finding it so difficult?' Of course, it was the result of his wonderful marvelous technique."
―Sebastian Shaw
The first film Sebastian Shaw appeared in was Caste in 1930. The actor soon began to make a name for himself in motion pictures with such performances as Brewster's Millions in 1935, Men Are Not Gods in 1936, and Farewell Again in 1937.[2] Shaw was making about 300 pounds a week during this stage of his career.[1] He brought what The Daily Telegraph described as a "smooth villainy" to the title role of Frank Sutton in The Squeaker in 1937, and played a hero alongside movie stars Conrad Veidt and Valerie Hobson in Michael Powell's The Spy in Black.[2] Shaw described himself as a movie buff and called Academy Award-winning actor Spencer Tracy his "great god of all screen actors";[6] he was so impressed by Tracy's technique that he claimed to become depressed while watching his movies because Tracy made acting look simple, while Shaw claimed to find it so difficult to master himself.[6]
"None of your damn business…but, at a rough estimate, I'd say about what you lot earn put together."
―Sebastian Shaw, when asked by fellow soldiers how much he made as an actor
When World War II broke out, Shaw took a brief break from his acting career and immediately joined the Royal Air Force (RAF), where he served as an Aircraftman 2nd Class. He saw little action in the service and was told the only chance he would have to fly would be as a rear gunner. Some of his fellow airmen hounded Shaw for autographs while others would mock his posh accent, to which Shaw would retaliate with an unflattering imitation of their own accents. Immediately upon returning to London after the war, Shaw lost his Albany flat and his acting contract, and essentially had to restart his acting career.[1]
Although Shaw made 20 films before WWII and had already began to develop a reputation as a strong leading man before the war began, in later years Shaw would describe himself as "a rotten actor"[2] in the 1930s who landed roles based mainly on his good looks. He used the phrase "a piece of cinema beefcake"[2] to describe himself as an actor during that period,[2] and felt it was after his return home from military service that he learned to act properly and began to mature as a performer.[1] Shaw's Royal Air Force experience would be put to good use when he played a pilot in Journey Together, a 1946 RAF training film in which actor Edward G. Robinson would coach actor Richard Attenborough in the rudiments of flying.[7]
"You can be taught certain skills: movement, dancing, sword dancing, sword fighting, how to handle your body, control. But nobody can teach you to act. It's a gift."
―Sebastian Shaw
In 1945, Shaw returned to the Embassy Theatre to direct Fyodor Dostoevsky's The Gambler. Significant theatre roles in that decade would include Hercules in The Thracian Horses at the Lyric Hammersmith theatre in 1946; Hern Lawrance in I Said to Myself at the Old Mercury Theatre in 1947; Sir James Kirkham in His Excellency at Prince's Theatre in 1950 and Filmer Jesson, MP in Arthur Wing Pinero's His House in Order at New Theatre in 1951. In 1956, he would play the title role in the first English production of Hugo von Hofmannsthal's Everyman.[2] That same year, he would write the lyrics to his father's ballad-opera, All at Sea, which played at the Royal College of Music. In 1957, he played Lucifer in Brother Lucifer in Shrewsbury, England, and a sinister Venetian agent in Jonathan Griffin's The Hidden King in Edinburgh, Scotland.[3]
As Shaw grew older, his reputation as a dramatic actor grew stronger, and he became known for a sharp intelligence and dignified style. Although his good looks began to diminish, reviewers felt his florid and weatherbeaten face was well utilized by Shaw in evoking grandeur and self-assuredness in such roles as generals, priests and his familiar Shakespearean parts.[2][7] In 1956, his wife Margaret Delamere passed away; she was survived by her and Shaw's daughter, Drusilla.[8] Shaw began a romantic relationship in the mid-1950s with Joan Ingpen, a classical music and opera talent agent who previously represented Shaw. The two were romantically involved, to the point that she even took his last name, for about four decades until Shaw's death.[9] During the 1980s, however, Shaw also engaged in a brief relationship with Harriet Ravenscroft, the mother of disc jockey John Peel, who Shaw met while performing at the Ludlow Castle at Ludlow. Shaw split his time between Ingpen and Ravenscroft on a four-day rotation basis to which both women consented. Although Peel got along with Shaw and said he made his mother happy, Peel admitted he did not feel comfortable with the arrangement and felt it disrupted his mother's friendships and prospects for a more stable relationship.[10]
"It was one of those rare occasions when the actor proved far better in reality than in the scriptwriter's imagination."
―Adan Benedick, about Shaw's contributions to screenplays
Shaw wrote Take a Life, his first play, in 1961. He directed a production of the show at London's Mermaid Theatre, where he also played the lead role of the Detective. That same year he played two lead roles in George Bernard Shaw plays at the Dublin Theatre Festival: Mrs. Warren's Profession and Candida.[2] Around this time, Shaw also wrote an outline for a television comedy series about four girls sharing a flat, inspired by his real-life daughter, who was in her early twenties and living in a flat with other girls her age. The series was submitted to the Granada Television company, which expressed interest in the show and said it was one of two under consideration for television. The company ultimately chose the other show, the long-running British soap opera Coronation Street.[5]
Shaw agreed to take certain roles only under the condition that he have complete freedom to rewrite his dialogue. When Shaw appeared in It Happened Here, a 1966 World War II film, he wrote much of his own dialogue, which the filmmakers would later admit "gave his dialogue an individual slant which enhanced his performance."[7] Shaw also helped in other aspects of the filmmaking, including casting; he introduced the filmmakers to Fiona Leland, who would be cast as Shaw's wife in It Happened Here.[7] Shaw wrote other plays, including The Ship's Bell, The Cliff Walk, The Glass Maze, and Cul de Sac.[4] He also wrote Poems, a collection of his personal poetry, which saw a limited print of 300 editions by publisher Exeter University. It included poems called Nightmare, Sing Cuckoo, Necrophilia, Apple Harvest, Noctambulation, Thought From Ireland, Moor Mouse, White Blues, The Naked Hill, The Cover of Darkness, Two Pictures at Edinburgh, Waking at Dawn, The Comedian's Tale, and The Building Site.[11]
"Every role can be played in 101 different ways. And styles change constantly. If you knew how Shakespeare's actors played the parts, you'd be a great actor."
―Sebastian Shaw
In 1965, British theatre director William Gaskill was named artistic director of the Royal Court Theatre, where he hoped to reestablish a repertoire. He approached Shaw, who made his acting début at the Royal Court Theatre as a youth, and Shaw agreed to return.[7] There he would deliver several performances there over the next year, including General Conrad von Hotzendorf in Joan Osborne's A Patriot for Me, various roles in Ann Jellicoe's Shelley, Sir Francis Harker in N.F. Simpson's The Cresta Run, and Pte Atterclife in John Arden's Serjeant Musgrave's Dance.[2]
In 1966, Shaw joined the Royal Shakespeare Company, where he spent the next decade of his career[1] and eventually became an associate artist.[3] He mostly appeared in Shakespeare plays, including the title role in Cymbeline, Edmund of Langley in Richard II,[2] the King in All's Well That Ends Well, Ulysses in Troilus and Cressida, and Leonato in Much Ado About Nothing.[3] The Times described his performance in the title role of Cymbeline as "awe-inspiring",[3] and The Independent described his performance as Polonius in Hamlet as "unrivalled in his complacency and sense of circumstance."[7] The Telegraph described his performance of Gloucester in King Lear as "doleful"[2] and his performance of Duncan in Macbeth as "decent."[2] Many of the company's Shakespearean productions at the time were considered interpretive and modern, which drew criticism from some traditionalists, but Shaw defended the experimental nature of the shows and shunned the notion of that plays should be restricted to preconceived interpretations.[5]
He demonstrated what The Daily Telegraph called a "crusty charm" as Sir Oblong Fitz Oblong in Robert Bolt's children's play The Thwarting of Baron Bolligrew, during his time with the company.[2] Shaw was also noted as possessing a gift for dry comedy during this period of his acting career, such as during his roles in Maxim Gorky's plays Enemies and Summerfolk. Shaw demonstrated a particular knack for Russian comedy in Jonathan Miller's productions of Anton Chekhov plays Three Sisters and Ivanov.[2]
"In this tender, sensitive and blackly comic novel, Sebastian Shaw, the distinguished Shakespearean actor, explores areas of sexual and emotional encounter that are rarely seen and, unfortunately, too rarely understood."
―The Christening book cover flap description
Shaw wrote The Christening, his only novel, in 1975.[2] He originally planned to call the novel The Godfather, but later said he was glad he did not due to the popularity of Mario Puzo's book of that name.[5] The Christening focuses around Miles Madgwick, who believes himself to be bisexual but is too timid to find out through physical intercourse, so he instead describes his most intimate thoughts into his diary. He then meets, and becomes attracted to, a married woman named Alice and her son, Rodney; he comes to identify with Rodney's childhood innocence, and in Alice sees a symbol both of his mother and a heterosexual lover. One night, Rodney stays overnight at Madgwick's house and, when he takes the boy home in a taxicab, the driver observes their strange behavior and accuses Madgwick of being a pederast. When Alice asks Madgwick to become the godfather to her new child, the driver threatens to expose Madgwick.[12] A description in the book cover flap reads, "In this tender, sensitive and blackly comic novel, Sebastian Shaw, the distinguished Shakespearean actor, explores areas of sexual and emotional encounter that are rarely seen and, unfortunately, too rarely understood."[2] Shaw was said to have been working on another novel shortly after The Christening was completed, but no other novels by Shaw have been published.[5]
"Actors take themselves on stage, and they absorb themselves into the character, and the character into themselves, and they give you that. It doesn't always work. It's rubbish to say any actor can play any part."
―Sebastian Shaw
In 1978, Sebastian Shaw earned acclaim for his performance as a judge in the stage debut of Whose Life Is It Anyway? at the Mermaid Theatre, the same theatre he debuted his first play 17 years earlier. The production won Laurence Olivier Awards for Best Play and Best Actor (Tom Conti).[2] Although 73 years old, Shaw did not let his age slow down his career. During the run of this production a mugger tried to steal his money, but Shaw chased him down, tackled him and recovered his property; later that same year, Shaw was painted in the nude by his nephew, Brian Ocean.[1] Nevertheless, during his later years, Shaw suffered a physical disability that made him tremble, which had a negative impact on his television roles, particularly when handling cups or trays of drinks. One of Shaw's final television appearances was in The Old Curiosity Shop, a 1979 mini-series based on the novel by Charles Dickens. Around this time, he also voiced the part of Squire Beltham in a radio production of The Adventurers of Harry Richmond, which The Daily Telegraph said was "remembered with affection."[2] Shaw lent his voice to several radio performances, both Shakespearean and modern, including protagonist John Tanner in the five-hour Man and Superman by George Bernard Shaw.[3]
"I've no idea why they fixed on me. The point was, they decided that they needed a very experienced actor to play that very difficult scene. It wasn't easy to bring off."
―Sebastian Shaw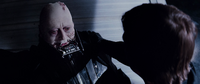 In 1982, Sebastian Shaw was chosen for the brief, but crucial role as Anakin Skywalker in Return of the Jedi, the third and final movie in the original Star Wars trilogy. Although David Prowse played the costumed scenes and James Earl Jones portrayed the voice of Darth Vader, just as they had in the first two films, Shaw was to play a single scene with Mark Hamill, during the moment aboard DS-2 Death Star II Mobile Battle Station when Luke Skywalker unmasks his dying father. Since the scene was arguably the emotional climax of the film, the casting crew wanted an experienced actor for the role. At the time he was approached for the film, Shaw was playing such Shakespearean roles as Charles VI in Henry V and First Gravedigger in Hamlet at London's Barbican Centre. Shaw was familiar with the previous two Star Wars films and enjoyed them particularly for the visual effects, which he described in an interview with science-fiction film magazine Starlog as "brilliant techniques which, in many ways, were revolutionary, something quite new."[6]
"So secret was it that my actual contract said that I was not to disclose my role to nobody, not even my nearest and dearest."
―Sebastian Shaw
Shaw participated in an audition for the Return of the Jedi part but, due to the secrecy regarding the production, was not allowed to see his portion of the actual script until he had guaranteed to take the role and promised not to reveal any film secrets to anyone. His contract included a stipulation that he could not even tell family or friends the part he would be playing; Shaw told Starlog when asked by his loved ones about the role, he would answer, "I'm sorry, I'm not at liberty to tell you."[6] Shaw received many press inquiries about his part in the movie once word of his casting was leaked, but he did not discuss his participation in the film until George Lucas gave him permission after the film's 1983 theatrical release.[6] When Shaw arrived at the set for filming, he ran into his friend Ian McDiarmid, the actor playing Emperor Palpatine, but Shaw did not tell him anything about the part. When McDiarmid asked him what he was doing there, Shaw simply responded, "I don't know, dear boy, I think it's something to do with science-fiction."[13] McDiarmid later reflected upon the comment, "That was Sebastian. The Star Wars saga had passed him blissfully by."[13]
"Incidentally, Mark nearly took my ears with it. 'Wow,' I said."
―Sebastian Shaw, about when Mark Hamill removed the Darth Vader mask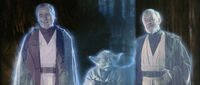 Shaw's scene in Return of the Jedi was filmed in only one day at Elstree Studios in Hertfordshire, England. His presence during the filming was kept secret from all but the absolute minimum cast and crew. Director Richard Marquand directed the scene, but George Lucas was present for the entire length of filming. Shaw found the mask costume to be physically challenging during his scene; he had difficulty breathing through the two small holes in the quarter-inch thick Darth Vader mask that covered his entire face and head. His head was shaven, white make-up was applied to his face, black make-up was applied around his eyes and fake burn scars were applied to his head and cheeks. Regarding the screenplay by Lucas and Lawrence Kasdan, Shaw told Starlog his unmasking scene "was so beautifully written that we never altered the dialogue at all." The scene was filmed in only a few takes, although some of Mark Hamill's close-ups took multiple takes because Shaw said "he was so terribly anxious to get it right." Shaw said the young actor was enjoyable to work with and appreciative of Shaw's experience.[6]
The unmasking scene lasts two minutes and seven seconds and includes twenty-four words of dialogue spoken by Shaw.[14] George Lucas personally directed Shaw for his appearance in the final scene of the movie, in which he is a Force ghost of Anakin Skywalker dressed in brown and white robes, his prior burns and injuries completely healed. The footage was shot against a green screen and the characters of Obi-Wan Kenobi and Yoda, with whom Anakin exchanges glances and smiles, were added later. Shaw did not know the purpose of the footage and believed it to be publicity, not for the film. When directing the scene, Lucas simply advised the actor, "Look happy, smile."[6]
"I was something of a movie star when I was young, before the great war, but I've never had so much fan mail as I've had from this film."
―Sebastian Shaw
Shaw received more fan mail and autograph requests from Return of the Jedi than he had for any role in his career; he said most of the letters he received were from boys between the ages of twelve and fourteen, but he also heard from older people who were unexpectedly touched by the film. Shaw later reflected that he very much enjoyed his experience filming for Return of the Jedi and expressed particular surprise that an action figure was made of him from the film.[6]
"Extremely handsome in his youth, he was still a boldly striking figure when Romeo had given way to Friar Laurence, and he retained his looks well into old age."
―The Times
Sebastian Shaw remained active in his later years; along with fellow Royal Shakespeare Company actors Ian Richardson, John Nettles, Martin Best, and Ann Firbank, Shaw engaged in discussions and workshops with acting teachers and students in the early 1980s.[15][4] Although appearances in films became far less common in Shaw's later career, he received much acclaim for his performance as a Cold War spy in Clare Peploe's High Season at the New York Film Festival in 1987;[3] The San Diego Union-Tribune said Shaw played the role with "endearing, sweet gravity."[16] One of his last performances was in the Christmas season of 1988 and 1989, when he played the wizard in a stage production of The Wizard of Oz at the Barbican Centre and the Stratford Festival Company. The Times said audiences were "delighted to recognise his honeyed threats from behind the great carapace that disguised the Wizard of Oz."[3] Shaw became a honorary life-member at Garrick Club, which included such past members as writers Charles Dickens, J.M. Barrie, Kingsley Amis; artists Dante Gabriel Rossetti and John Everett Millais; composer Edward Elgar; and Winnie the Pooh creator A.A. Milne.[3]
"He was a breathtaking phenomenon."
―Richard Leech
Sebastian Shaw died of natural causes on December 23, 1994 at age 89 in Brighton, East Sussex, England.[2] A funeral service was held February 15, 1995 at St Paul's, Covent Garden, commonly known as The Actors' Church due to its long association with the theatre community, in Covent Garden, London. Actors Ian Richardson and Ben Kingsley read works by William Shakespeare; stage actress Estelle Kohler read The Ways of Love by Victorian poet Elizabeth Barrett Browning; actress Sheila Allen read Life by Welsh poet George Herbert; and actor Kenneth Branagh read from the works of Canon Henry Scott Holland. One of Shaw's own poems, Gemini, was also read. Baritone Stephen Varcoe sang Wie bist du meine Konigin by Johannes Brahms, accompanied by Graham Johnson on the piano, and guitarist Martin Best performed and sang his composition of Ariel's Songs from The Tempest. Shaw was survived by his partner Joan Ingpen, daughter Drusilla MacLeod, sisters Susan Bonner-Morgan and Penelope Harness, and sister-in-law Olga Young.[8]
Return of the Jedi re-release changes

[

edit

|

edit source

]
"The change didn't make any sense, any more than if George Lucas had replaced Sir Alec Guinness with Ewan McGregor. I didn't mind all the other little tweaks, but this left me feeling cheated. More than that, don't you think it's disrespectful to Sebastian Shaw?"
―Jimmy Jacobs, Star Wars fan, in a letter to film critic Roger Ebert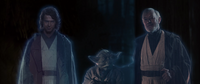 In the 2004 DVD edition of Return of the Jedi, several changes and modifications were made to the scenes involving Sebastian Shaw. The unmasking scene with Mark Hamill remained mostly intact, but Shaw's eyebrows were digitally removed from his face due to the fact that they would be burned off Anakin Skywalker in the 2005 prequel, Revenge of the Sith. Shaw's eyes were also digitally colored to look more like those of Hayden Christensen, who played Anakin in the prequel films. A far more drastic change, however, was the replacement of Shaw's image with that of Christensen during his appearance as a Force ghost in the last scene of Return of the Jedi. This attempt to tie the prequel and original trilogies together proved to be one of the least popular changes in the Star Wars re-releases.[17][18] Others, however, defended the move; although author and pop culture expert Will Brooker said George Lucas "totally Stalinized"[17] Shaw by removing him from the scene, Brooker also disputed a claim that Luke Skywalker would not have recognized the young Anakin, explaining his connection to the Force allowed him to do so.[17] Film reviewer Roger Ebert described the change as "actually a little poetic"[18] because it meant Anakin became one with the Force before he turned into Darth Vader.[18]
| | | | |
| --- | --- | --- | --- |
| Year | Title | Role | Other notes |
| 1930 | Caste | Hon. George d'Alroy | Film debut |
| 1933 | Little Miss Nobody | Pat Carey | |
| 1933 | House of Dreams | | |
| 1933 | Taxi to Paradise | Tom Fanshawe | |
| 1934 | The Way of Youth | Alan Marmon | |
| 1934 | The Four Masked Men | Arthur Phillips | |
| 1934 | Get Your Man | Robert Halbean | |
| 1934 | Adventurers Ltd. | Bruce Blandford | |
| 1935 | Brewster's Millions | Frank | |
| 1935 | The Lad | Jimmy | |
| 1935 | Three Witnesses | Roger Truscott | |
| 1935 | Jubilee Window | Peter Ward | |
| 1935 | Department Store | John Goodman Johnson | aka Bargain Basement |
| 1936 | Tomorrow We Live | Eric Morton | |
| 1936 | Birds of a Feather | Jack Wortle | |
| 1936 | Jury's Evidence | Philip | |
| 1936 | Men Are Not Gods | Edmund Davey | |
| 1937 | Farewell Again | Capt. Gilbert Reed | aka Troopship (USA) |
| 1937 | The Squeaker | Frank Sutton | aka Murder on Diamond Row (USA) |
| 1938 | Julius Caesar | Marcus Brutus | television |
| 1939 | Too Dangerous to Live | Jacques Leclerc | |
| 1939 | Prison Without Bars | Doctor | |
| 1939 | Table d'Hote | Adam ("Doubting Hall" section) | |
| 1939 | The Spy in Black | Lt. Ashington/Cmdr. David Blacklock | aka U-Boat 29 (USA) |
| 1940 | Now You're Talking | Charles Hampton | |
| 1940 | Three Silent Men | Sir James Quentin | |
| 1940 | Bulldog Sees It Through | Derek Sinclair | |
| 1940 | The Flying Squad | Inspector Bradley | |
| 1941 | East of Piccadilly | Tamsie Green | aka The Strangler (USA) |
| 1946 | Journey Together | Squadron Leader Marshall | |
| 1949 | The Glass Mountain | Bruce McLeod | |
| 1949 | Landfall | Wing Cmdr. Dickens | |
| 1953 | Laxdale Hall | Hugh Marvell, M.P. | aka Scotch on the Rocks (USA) |
| 1958 | Armchair Theatre | | Television (1 episode, "The Terrorist") |
| 1960 | Here Lies Miss Sabry | James "Cracker" Talbot | Television |
| 1965 | It Happened Here | Doctor Richard Fletcher | |
| 1966 | Out of the Unknown | Major Gregory | Television (1 episode, "Walk's End") |
| 1968 | All's Well That Ends Well | King of France | |
| 1968 | A Midsummer Night's Dream | Quince | |
| 1972 | Thirty-Minute Theatre | The Judge | Television (1 episode, "The Judge's Wife") |
| 1972 | Dead of Night | Powys Jubb | Television (1 episode, "Death Cancels All Debts") |
| 1977 | Play for Today | | Television (1 episode, "A Choice of Evils") |
| 1979 | Rumpole of the Bailey | Mr. Justice Skelton | Television (1 episode, "Rumpole and the Show Folk") |
| 1981 | Nanny | Mr. Starkie | Television (1 episode, "Goats and Tigers") |
| 1981 | Timon of Athens | Old Athenian | |
| 1983 | Reilly: Ace of Spies | Reverend Thomas | Television (1 episode, "An Affair with a Married Woman") |
| 1983 | The Nation's Health | Doctor Thurson | Television (2 episodes, "Collapse" and "Decline") |
| 1984 | Crown Court | Justice Bewes | Television (2 episodes, "There Was an Old Woman" and "Drunk, Who Cares") |
| 1987 | High Season | Sharp | |
| 1988 | The Master Builder | Knut Brovik | |
| 1988 | Casualty | Charles Howlett | Television (1 episode, "Drake's Drum") |
| 1989 | Chelworth | Lord Toller | Miniseries |
| 1991 | Chernobyl: The Final Warning | Grandpa | |
| 1991 | Chimera | Dr. Liawski | aka Monkey Boy[19] |
↑ 1.00 1.01 1.02 1.03 1.04 1.05 1.06 1.07 1.08 1.09 1.10 1.11 1.12 1.13 1.14 1.15 1.16 1.17 1.18 Leech, Richard. "Better Than Beefcake: Sebastian Shaw," The Guardian, December 29, 1994, Features (section), pg. T12.
↑ 2.00 2.01 2.02 2.03 2.04 2.05 2.06 2.07 2.08 2.09 2.10 2.11 2.12 2.13 2.14 2.15 2.16 2.17 2.18 2.19 2.20 2.21 "Sebastian Shaw Obituary," The Daily Telegraph, January 2, 1995.
↑ 3.00 3.01 3.02 3.03 3.04 3.05 3.06 3.07 3.08 3.09 3.10 3.11 3.12 "Sebastian Shaw," The Times, December 30, 1994, Features (section).
↑ 4.0 4.1 4.2 4.3 Kernan, Michael. "Sebastian Shaw & the Shades of the Bard" The Washington Post, March 1, 1980, Style (section), pg. B2.
↑ 5.0 5.1 5.2 5.3 5.4 Seaton, Ray. "Mr. Shaw's Voyage of Discovery," Express and Star, April 29, 1974.
↑ 6.0 6.1 6.2 6.3 6.4 6.5 6.6 6.7 Pirani, Adam. "Sebastian Shaw: The Return of Anakin Skywalker," Starlog, July 1987, Vol. 11, Iss. 120, pg. 56-57,+96.
↑ 7.0 7.1 7.2 7.3 7.4 7.5 Benedick, Adan. "Sebastian Shaw," The Independent, February 13, 1995, Gazette (section), pg. 12.
↑ 8.0 8.1 "IN MEMORIAM Mr. Sebastian Shaw," The Daily Telegraph, February 15, 1995. Retrieved on 2008-08-01.
↑ Sutcliffe, Tom. "Obituary: Joan Ingpen, Inspirational artistic organiser at Covent Garden, Paris Opera and the New York Met," The Guardian, January 14, 2008, Obituaries Pages (section), pg. 34.
↑ Peel, John (2007). Margrave of the Marches, Chicago: Chicago Review Press, pg. 87-89. ISBN 1556526520.
↑ Shaw, Sebastian (1969). Poems - Sebastian Shaw, Exeter: University of Exeter. ISBN n/a.
↑ Shaw, Sebastian (1975). The Christening, London: W.H. Allen Ltd. ISBN 0491018231.
↑ Lardner, James. "Theater Notes" The Washington Post, February 28, 1980, Style (section), pg. D9.
↑ Elliott, David. "Paradise found in witty, sensual 'High Tension'," The San Diego Union-Tribune, July 6, 1988, Lifestyle (section), pg. D-1.
↑ 17.0 17.1 17.2 Johnson, Derek. "Star Wars fans, DVD, and cultural ownership: an interview with Will Brooker; Interview," Velvet Light Trap, September 22, 2005, pg. 36-44.
↑ 18.0 18.1 18.2 Ebert, Roger. "Anakin's fans strike back," Chicago Sun-Times, May 1, 2005, Sunday Showcase (section), pg. 3.
↑ 19.0 19.1 "Sebastian Shaw (1)." Internet Movie Database. Retrieved on 2008-09-07.
Community content is available under
CC-BY-SA
unless otherwise noted.