Jurassic World: Dominion Dominates Fandom Wikis - The Loop
Play Sound
"Sebastian Shaw was the kind of character actor who could rise to any dramatic occasion. Whether in films, plays, television or on the radio, his unobtrusive manner, sharp intelligence, tactful style and polished technique gave all his work a quiet distinction."
―Adan Benedick
Sebastian Shaw (May 29, 1905–December 23, 1994) was an English stage, film, television and radio actor, as well as a director, novelist, playwright and poet. Over the course of his 65-year career, Shaw appeared in more than 40 film and television productions, but was mostly known for his dozens of stage performances. A self-described "rotten actor" as a youth, Sebastian claimed to mature as a performer after returning from service in the Royal Air Force during World War II. Shaw was particularly known for his performances in William Shakespeare productions, which were considered daring and ahead of his time. He also wrote a novel, The Christening, in 1975.
One of Shaw's more famous roles is his brief but important performance in Return of the Jedi, in which he portrayed a redeemed Anakin Skywalker during the moment aboard the Death Star II when Luke Skywalker unmasks his dying father. Due to the extreme secrecy demanded by Star Wars creator George Lucas, Shaw knew no details of his part until he was guaranteed to play the role, and was forbidden from discussing it with anyone, even his family and friends, until after the theatrical release. Sebastian Shaw died of natural causes at age 89 in 1994. Ten years later, his image as a Force ghost during the final scene of Return of the Jedi was replaced with that of prequel actor Hayden Christensen for the movie's 2004 DVD re-release.
Biography
[
]
Early life
[
]
Sebastian Lewis Shaw was born at Holt, Norfolk in England on May 29, 1905. His father, Dr. Geoffrey Shaw, was the music master at Gresham's School, a North Norfolk independent coeducational boarding school, where Sebastian Shaw began his education.[1]
Return of the Jedi

[

]
Casting
[
]
"I've no idea why they fixed on me. The point was, they decided that they needed a very experienced actor to play that very difficult scene. It wasn't easy to bring off."
―Sebastian Shaw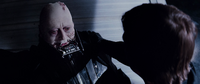 In 1982, Sebastian Shaw was chosen for the brief, but crucial role as Anakin Skywalker in Return of the Jedi, the third and final movie in the original Star Wars trilogy. Although David Prowse played the costumed scenes and James Earl Jones portrayed the voice of Darth Vader, just as they had in the first two films, Shaw was to play a single scene with Mark Hamill, during the moment aboard DS-2 Death Star II Mobile Battle Station when Luke Skywalker unmasks his dying father. Since the scene was arguably the emotional climax of the film, the casting crew wanted an experienced actor for the role. At the time he was approached for the film, Shaw was playing such Shakespearean roles as Charles VI in Henry V and First Gravedigger in Hamlet at London's Barbican Centre. Shaw was familiar with the previous two Star Wars films and enjoyed them particularly for the visual effects, which he described in an interview with science-fiction film magazine Starlog as "brilliant techniques which, in many ways, were revolutionary, something quite new."[3]
Secrecy
[
]
"So secret was it that my actual contract said that I was not to disclose my role to nobody, not even my nearest and dearest."
―Sebastian Shaw
Shaw participated in an audition for the Return of the Jedi part but, due to the secrecy regarding the production, was not allowed to see his portion of the actual script until he had guaranteed to take the role and promised not to reveal any film secrets to anyone. His contract included a stipulation that he could not even tell family or friends the part he would be playing; Shaw told Starlog when asked by his loved ones about the role, he would answer, "I'm sorry, I'm not at liberty to tell you." Shaw received many press inquiries about his part in the movie once word of his casting was leaked, but he did not discuss his participation in the film until George Lucas gave him permission after the film's 1983 theatrical release.[3] When Shaw arrived at the set for filming, he ran into his friend Ian McDiarmid, the actor playing Emperor Palpatine, but Shaw did not tell him anything about the part. When McDiarmid asked him what he was doing there, Shaw simply responded, "I don't know, dear boy, I think it's something to do with science-fiction."[4] McDiarmid later reflected upon the comment, "That was Sebastian. The Star Wars saga had passed him blissfully by."[4]
Filming
[
]
"Incidentally, Mark nearly took my ears with it. 'Wow,' I said."
―Sebastian Shaw, about when Mark Hamill removed the Darth Vader mask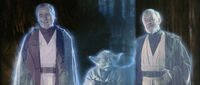 Shaw's scene in Return of the Jedi was filmed in only one day at Elstree Studios in Hertfordshire, England. His presence during the filming was kept secret from all but the absolute minimum cast and crew. Director Richard Marquand directed the scene, but George Lucas was present for the entire length of filming. Shaw found the mask costume to be physically challenging during his scene; he had difficulty breathing through the two small holes in the quarter-inch thick Darth Vader mask that covered his entire face and head. His head was shaven, white make-up was applied to his face, black make-up was applied around his eyes and fake burn scars were applied to his head and cheeks. Regarding the screenplay by Lucas and Lawrence Kasdan, Shaw told Starlog his unmasking scene "was so beautifully written that we never altered the dialogue at all." The scene was filmed in only a few takes, although some of Mark Hamill's close-ups took multiple takes because Shaw said "he was so terribly anxious to get it right." Shaw said the young actor was enjoyable to work with and appreciative of Shaw's experience.[3]
The unmasking scene lasts two minutes and seven seconds and includes twenty-four words of dialogue spoken by Shaw.[5] George Lucas personally directed Shaw for his appearance in the final scene of the movie, in which he is a Force ghost of Anakin Skywalker dressed in brown and white robes, his prior burns and injuries completely healed. The footage was shot against a green screen and the characters of Obi-Wan Kenobi and Yoda, with whom Anakin exchanges glances and smiles, were added later. Shaw did not know the purpose of the footage and believed it to be publicity, not for the film. When directing the scene, Lucas simply advised the actor, "Look happy, smile."[3]
Response
[
]
"I was something of a movie star when I was young, before the great war, but I've never had so much fan mail as I've had from this film."
―Sebastian Shaw
Shaw received more fan mail and autograph requests from Return of the Jedi than he had for any role in his career; he said most of the letters he received were from boys between the ages of twelve and fourteen, but he also heard from older people who were unexpectedly touched by the film. Shaw later reflected that he very much enjoyed his experience filming for Return of the Jedi and expressed particular surprise that an action figure was made of him from the film.[3]
Death
[
]
"He was a breathtaking phenomenon."
―Richard Leech
Sebastian Shaw died of natural causes on December 23, 1994 at age 89 in Brighton, East Sussex, England.[2] A funeral service was held February 15, 1995 at St Paul's, Covent Garden, commonly known as The Actors' Church due to its long association with the theatre community, in Covent Garden, London. Actors Ian Richardson and Ben Kingsley read works by William Shakespeare; stage actress Estelle Kohler read The Ways of Love by Victorian poet Elizabeth Barrett Browning; actress Sheila Allen read Life by Welsh poet George Herbert; and actor Kenneth Branagh read from the works of Canon Henry Scott Holland. One of Shaw's own poems, Gemini, was also read. Baritone Stephen Varcoe sang Wie bist du meine Konigin by Johannes Brahms, accompanied by Graham Johnson on the piano, and guitarist Martin Best performed and sang his composition of Ariel's Songs from The Tempest. Shaw was survived by his partner Joan Ingpen, daughter Drusilla MacLeod, sisters Susan Bonner-Morgan and Penelope Harness, and sister-in-law Olga Young.[6]
Return of the Jedi re-release changes

[

]
"The change didn't make any sense, any more than if George Lucas had replaced Sir Alec Guinness with Ewan McGregor. I didn't mind all the other little tweaks, but this left me feeling cheated. More than that, don't you think it's disrespectful to Sebastian Shaw?"
―Jimmy Jacobs, Star Wars fan, in a letter to film critic Roger Ebert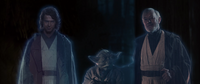 In the 2004 DVD edition of Return of the Jedi, several changes and modifications were made to the scenes involving Sebastian Shaw. The unmasking scene with Mark Hamill remained mostly intact, but Shaw's eyebrows were digitally removed from his face due to the fact that they would be burned off Anakin Skywalker in the 2005 prequel, Revenge of the Sith. Shaw's eyes were also digitally colored to look more like those of Hayden Christensen, who played Anakin in the prequel films. A far more drastic change, however, was the replacement of Shaw's image with that of Christensen during his appearance as a Force ghost in the last scene of Return of the Jedi. This attempt to tie the prequel and original trilogies together proved to be one of the least popular changes in the Star Wars re-releases.[8][7] Others, however, defended the move; although author and pop culture expert Will Brooker said George Lucas "totally Stalinized"[8] Shaw by removing him from the scene, Brooker also disputed a claim that Luke Skywalker would not have recognized the young Anakin, explaining his connection to the Force allowed him to do so.[8] Film reviewer Roger Ebert described the change as "actually a little poetic"[7] because it meant Anakin became one with the Force before he turned into Darth Vader.[7]
Filmography
[
]
Sources
[
]
Notes and references
[
]
↑ 1.0 1.1 1.2 1.3 1.4 1.5 1.6 1.7 1.8 Leech, Richard. "Better Than Beefcake: Sebastian Shaw," The Guardian, December 29, 1994, Features (section), pg. T12.
↑ 2.0 2.1 "Sebastian Shaw Obituary," The Daily Telegraph, January 2, 1995.
↑ 3.0 3.1 3.2 3.3 3.4 Pirani, Adam. "Sebastian Shaw: The Return of Anakin Skywalker," Starlog, July 1987, Vol. 11, Iss. 120, pg. 56-57,+96.
↑ "IN MEMORIAM Mr. Sebastian Shaw," The Daily Telegraph, February 15, 1995. Retrieved on 2008-08-01.
↑ 7.0 7.1 7.2 7.3 Ebert, Roger. "Anakin's fans strike back," Chicago Sun-Times, May 1, 2005, Sunday Showcase (section), pg. 3.
↑ 8.0 8.1 8.2 Johnson, Derek. "Star Wars fans, DVD, and cultural ownership: an interview with Will Brooker; Interview," Velvet Light Trap, September 22, 2005, pg. 36-44.
External links
[
]