"It looks like Derg encrypted a lengthy message on this data disk. So far I have found what looks like important coordinates to a secret laboratory on Lok. Apparently he was working on some sort of illicit project. Feel like going on a trip to Lok?"
―Cale Herron, to a spacer
The secret laboratory was a laboratory on the planet Lok.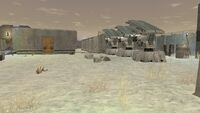 "Hmm....that looks interesting. I bet that is what your pal, Bib Fortuna, was looking for."
―Cale Herron, to a spacer
Circa 1 ABY,[2] Zabrak male slicer, Cale Herron, tasked a spacer with searching for clues in this laboratory. The spacer ended up finding a mysterious datapad next to the body of a dead Twi'lek. The investigation eventually led to the discovery of the Blackwing outbreak on Dathomir.[1]
↑ 1.0 1.1 1.2  Star Wars Galaxies: The Complete Online Adventures—Quest: "Something is Obviously Wrong" on Tatooine
Community content is available under
CC-BY-SA
unless otherwise noted.