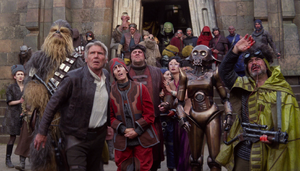 "You almost got us killed! Are you brainless?"
"I spake.[sic]"
"The ability to speak does not make you intelligent."
―Qui-Gon Jinn and Jar Jar Binks
Sentience was the ability of a species to think intelligently. Some sentient species in the galaxy included Humans,[1] the Ewoks,[2] the Patitites,[3] the Gungans,[4] and the Geonosians.[5] Non-sentient organics of the animal kingdom were variously referred to as "creatures"[6][7] or "beasts."[8][9] There also existed creatures that appeared to have emerging sentience, such as the Zillo Beast.[10]
Under the laws of the Galactic Republic, sentient beings could not be used as slaves. However, slavery thrived on certain remote planets such as Tatooine,[11] and was considered a profitable trade among the Zygerrians.[12] Most droids were afforded programming that did not allow them to harm organic sentient beings, with notable exceptions such as police droids[13] and battle droids.[14]
Appearances
Edit
Notes and references
Edit
↑  Ewoks in the Encyclopedia (link now obsolete; backup link)
↑  Patitites in the Encyclopedia (link now obsolete; backup link)
↑  Naboo in the Encyclopedia (link now obsolete; backup link)
↑  Geonosis in the Encyclopedia (link now obsolete; backup link)
↑  Rancor in the Encyclopedia (link now obsolete; backup link)
↑  Tauntaun in the Encyclopedia (link now obsolete; backup link)
↑  Ruping in the Encyclopedia (link now obsolete; backup link)
↑  Nexu in the Encyclopedia (link now obsolete; backup link)
↑  Zillo Beast in the Encyclopedia (link now obsolete; backup link)
↑  Zygerrians in the Encyclopedia (link now obsolete; backup link)
↑  Police droid in the Encyclopedia (link now obsolete; backup link)
External links
Edit