Serv-O-Droid, Inc. was a droid manufacturer owned by the Delban Serv-O-Droid conglomerate. They once owned a construction plant in the Grungeon Block of the Works on Coruscant.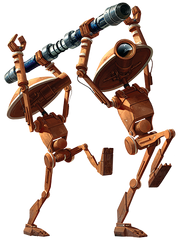 Serv-O-Droid was one of the oldest manufacturers of droids, and some legends suggested that it was one of the first.[1] Dating to the days of the Old Republic, Serv-O-Droid became a household name with the cheap and extremely reliable R-8009 utility droid, which brought the company billions of credits and enabled it to swallow its chief competitor, Delban Electrodyne, forming the Delban Serv-O-Droid conglomerate.
Though Serv-O-Droid never reached the level of Cybot Galactica or Industrial Automaton, the company established itself firmly in the galaxy for thousands of years, until it eventually bankrupted with the establishment of the Corporate Sector. They were one of the contributing sponsors of the Corporate Sector Authority but went out of business shortly after its formation and the signing of its charter.[2]
It made some bad decisions to ally itself with the Republic bureaucracy. While this led to many favorable deals, the bribes, kickbacks, and political favors eventually dragged the company down. It attempted to expand its offerings, but eventually went bankrupt. Many of its designs and manufacturing was sold to the Droid ReServe, a droid remainder reseller located on Elshandruu Pica. They continued to sell and service Serv-O-Droid models for many years.[3] Despite its troubled business dealings, Serv-O-Droid maintained a reputation for high quality until it went out of business prior to the Battle of Endor.[1]
Appearances
Edit

Notes and references
Edit
↑ 1.0 1.1 1.2  "Look Sir, Droids!"—Star Wars Gamer 3, p. 50
Community content is available under
CC-BY-SA
unless otherwise noted.