"Minimal casualties, maximum effectiveness. That's us."
―Broadside, on Shadow Squadron
Shadow Squadron was a Republic starfighter squadron personally trained and led by Jedi General Anakin Skywalker, consisting of at least twelve BTL-B Y-wing starfighters. Its members included Matchstick, Broadside, and Tag.
History
[
]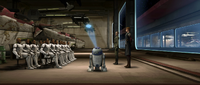 Anakin Skywalker personally trained Shadow Squadron.[2] Originally, Shadow Squadron flew V-19 Torrent starfighters. They played a major role in the attack on, and subsequent liberation of, the slave processing facility on Kadavo.[3] After this, Shadow Squadron implemented the Y-wing starfighters that Skywalker obtained.[4]
Shadow Squadron participated in the attack on Malevolence, taking heavy casualties. During the battle, Skywalker served temporarily as Shadow Leader. He was joined in his Y-wing by his Padawan Ahsoka Tano, and R2-D2, who served as their navigational droid. Jedi Master Plo Koon assisted as a Jedi fighter escort in his Delta-7B interceptor.[5]
Members during the Battle of the Kaliida Nebula
[
]
Appearances
[
]
Sources
[
]
Notes and references
[
]