Shadows of the Empire: Evolution 3 was the third issue in the Shadows of the Empire: Evolution series of comics, a sequel to Shadows of the Empire and was released on April 8, 1998 by Dark Horse Comics.
Human replica droid Guri has located the only one potentially capable of altering her assassin-driven programming, the surgical droid known as Doc. But now she's being pursued by a bounty hunter, Kar Yang. Savan, working in disguise as a Human female, is trying to secure her hold on the Black Sun organization -- and realizes that Guri is the key. Luke, Han, and Leia, who are meeting with Savan on Coruscant in order to work out a peaceful end to the tumultuous turnover in Black Sun, have no idea who she really is, though.
By type
Characters
Droid models
Locations
Organizations and titles
Sentient species
Vehicles and vessels
Weapons and technology
Miscellanea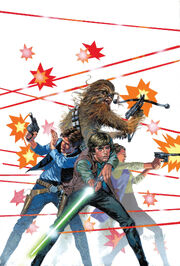 Community content is available under
CC-BY-SA
unless otherwise noted.