m

Line 7:
Line 7:
 

|next=*[[Battle of Kashyyyk]]<ref name="ROTS">[[Star Wars: Episode III Revenge of the Sith|''Star Wars'': Episode III ''Revenge of the Sith'']]</ref>

 

|next=*[[Battle of Kashyyyk]]<ref name="ROTS">[[Star Wars: Episode III Revenge of the Sith|''Star Wars'': Episode III ''Revenge of the Sith'']]</ref>

 

*[[Battle of Utapau]]<ref name="ROTS" />

 

*[[Battle of Utapau]]<ref name="ROTS" />

−

*[[Assault on Mygeeto]]<ref name="ROTS" />

+

*[[ ]]<ref name="ROTS" />

−

*[[Battle of Felucia (Outer Rim Sieges)|Battle of Felucia]]<ref name="ROTS" />

 
 

*[[Conquest of Kaller]]<ref name="The Last Padawan 1">[[Kanan 1|''Kanan'' 1]]</ref>

 

*[[Conquest of Kaller]]<ref name="The Last Padawan 1">[[Kanan 1|''Kanan'' 1]]</ref>

 

*[[Duel in Palpatine's office]]<ref name="ROTS" />

 

*[[Duel in Palpatine's office]]<ref name="ROTS" />
---
Revision as of 19:38, 18 April 2020
"Saleucami has fallen, and Master Vos has moved his troops to Boz Pity."
The Siege of Saleucami was one of the final battles of the Clone Wars between the Galactic Republic and the Confederacy of Independent Systems. Jedi General Quinlan Vos managed to defeat Separatist forces on the planet, but when he left Stass Allie alone with clone troopers to keep patrolling she was killed due to Order 66.
The siege
During the Outer Rim Sieges of the Clone Wars, fighting broke out between the Galactic Republic and the Confederacy of Independent Systems on the planet Saleucami,[1] which had seen prior fighting in the war.[8][9] Eventually, Jedi General Quinlan Vos and his troops were able to defeat the Separatist forces,[1] capturing the planet for the Republic.[5]
Aftermath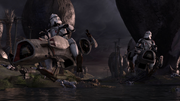 Once Saleucami had fallen, Vos moved his forces to Boz Pity, leaving Stass Allie and the 91st Mobile Reconnaissance Corps to mop up the remains of the droid army. However, while patrolling the world's swamplands on speeder bikes with Allie, Clone Commander Neyo received Order 66 from Supreme Chancellor Sheev Palpatine. This caused his genetically implanted control chip to activate, forcing his wingman and him to open fire on Allie, killing her.[1]
Behind the scenes
The Siege of Saleumcami was first referenced in Star Wars canon in Star Wars: Episode III Revenge of the Sith.[1] Within the Star Wars Legends continuity, the events surrounding the battle were expanded upon in Star Wars: Republic: Siege of Saleucami, the eighteenth story arc of Dark Horse Comics' Star Wars: Republic series.[10]
Appearances
Non-canon appearances
Sources
Notes and references
Community content is available under
CC-BY-SA
unless otherwise noted.