Jurassic World: Dominion Dominates Fandom Wikis - The Loop
Play Sound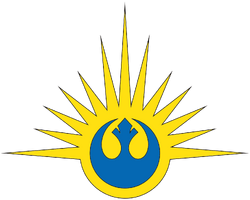 The government of the New Republic used different sigils during its thirty-year tenure. One, the "starburst insignia," depicted a starburst behind the old phoenix crest of the Alliance to Restore the Republic.[1] One possible color scheme for that sigil was blue crest over yellow starburst.[2] The carbon-lace armors worn by the members of the New Republic Special Forces were marked with the starburst insignia on the shoulders.[3] Around 34 ABY,[4] that sigil also appeared on the wings of the T-85 X-wings of the New Republic Defense Fleet, and on the uniforms and helmets worn by the New Republic pilots.[5]
Another sigil was the "rounded insignia." A more understated emblem, it was also based on the Alliance starbird, set within a circle of fifteen stars that represented unity. It was found among security forces.[1] Around 9 ABY,[6] a yellow version of the rounded insignia notably appeared on distinct types of security droids.[7]
Behind the scenes
[
]
The "starburst insignia" of the New Republic was created by Christopher M. Zucker, a designer working for Del Rey, to be featured in the chapter headings of the novel Aftermath.[8] The "rounded insignia" originated in Heir to the Empire Sourcebook, a 1992 supplement to the Legends Star Wars: The Roleplaying Game published by West End Games.[9]
Appearances
[
]
Sources
[
]
Notes and references
[
]
↑ T-85 X-wing in the Databank (backup link)
↑ "Resistance Revisited" – Star Wars Insider 190 establishes that the events of Star Wars Resistance Season One take place thirty years after the Battle of Endor, which corresponds to 34 ABY according to Star Wars: Galactic Atlas.
↑ SWCC 2019: 9 Things We Learned from The Mandalorian Panel on StarWars.com (backup link) establishes that The Mandalorian is set about five years after the events of Star Wars: Episode VI Return of the Jedi, which Star Wars: Galactic Atlas dates to 4 ABY. Therefore, the events of The Mandalorian must have taken place around 9 ABY.
↑ Del Rey on Facebook: Chris Zucker (September 21, 2015) (backup link)