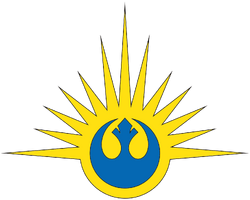 The government of the New Republic used different sigils during its thirty-year tenure. One, the "starburst insignia," depicted a starburst behind the old phoenix crest of the Alliance to Restore the Republic.[1] One possible color scheme for that sigil was blue crest over yellow starburst.[2] The carbon-lace armors worn by the members of the New Republic Special Forces were marked with the starburst insignia on the shoulders.[3] Around 33 ABY,[4] that sigil also appeared on the wings of the T-85 X-wings of the New Republic Defense Fleet, and on the uniforms and helmets worn by the New Republic pilots.[5]
Another sigil was the "rounded insignia." A more understated emblem, it was also based on the Alliance starbird, set within a circle of fifteen stars that represented unity. It was found among security forces.[1] Around 9 ABY,[6] a yellow version of the rounded insignia notably appeared on distinct types of security droids.[7]
The "starburst insignia" of the New Republic was created by Chris Zucker, a designer working for Del Rey, to be featured in the chapter headings of the novel Aftermath.[8] The "rounded insignia" originated in Heir to the Empire Sourcebook, a 1992 supplement to the Legends Star Wars: The Roleplaying Game published by West End Games.[9]
↑  T-85 X-wing in the Databank (backup link)
↑ According to a timeline shown at D23 Expo 2019, Star Wars Resistance – "The Recruit" takes place one year prior to the events of Star Wars: Episode VII The Force Awakens. Star Wars: Galactic Atlas places "The Force Awakens" in 34 ABY, meaning Star Wars Resistance – "The Recruit" takes place in 33 ABY.
↑  SWCC 2019: 9 Things We Learned from The Mandalorian Panel on StarWars.com (backup link) establishes that The Mandalorian is set about five years after the events of Star Wars: Episode VI Return of the Jedi, which Star Wars: Galactic Atlas dates to 4 ABY. Therefore, the events of The Mandalorian must have taken place around 9 ABY.
↑ Del Rey on Facebook: Chris Zucker (September 21, 2015). (backup link)
Community content is available under
CC-BY-SA
unless otherwise noted.