Simon Jabesq was a Naboo hangar chief during the Invasion of Naboo who worked for the Theed Palace Space Vessel Engineering Corps around 32 BBY.
Behind the scenes
Using Futhork to translate the inscription on Jabesq's helmet, the inscription actually reads "Simon". Jabesq was named "Simon" for the first time in The Complete Star Wars Encyclopedia.
Sources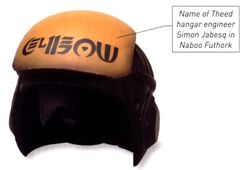 Community content is available under
CC-BY-SA
unless otherwise noted.