"Sithmas Battle" is a non-canon LEGO short that aired online on November 5, 2020.
Poe Dameron and his squad of X-wing fighters face-off with TIE fighters in an epic holiday light show battle! Hilarity ensues.[1]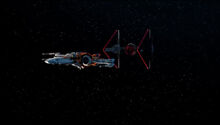 Poe Dameron is flying his X-wing fighter past a planet with R2-D2 as his astromech assist, listening to festive music. Suddenly, a Sith TIE dagger comes out of hyperspace, bumping into Dameron's starfighter. The pilot of the fighter faces Dameron and begins to flash the lights of his TIE, as well as playing holiday–themed music, dancing to it as it plays.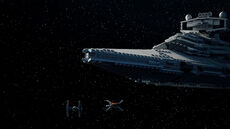 Dameron responds by playing a different festive song while locking and unlocking his S-foils to make it appear that his X-wing is dancing. The TIE pilot counters by bringing in a Star Destroyer, which itself carries many more TIE daggers. These TIEs form a snowflake around the original as they all flash their lights. Dameron also brigns in more fighter; for him, T-70 X-wing starfighters. Both groups of fighters fly in formations that resember holiday–themed items such as a gift box, a candy cane, a wreath, and more, until the X-wings form a stocking that kicks away the TIE daggers.
By type
Characters
Droid models
Organizations and titles
Vehicles and vessels
Weapons and technology
Miscellanea
↑ 1.0 1.1 1.2 1.3 Sithmas Battle | LEGO STAR WARS: Celebrate the Season on the official Star Wars Kids YouTube channel (backup link)
Community content is available under
CC-BY-SA
unless otherwise noted.