Skakoans were a sentient species native to the planet Skako Minor. In order to survive off of their homeworld, they were required to wear pressure suits to simulate its unique atmosphere and pressure, which were vastly different from the galactic standard.[4] A male Skakoan known as Wat Tambor was the foreman of the Techno Union during the final years of the Galactic Republic.[6]
Biology and appearance
Edit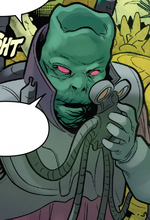 The Skakoans were a tall, intimidating species, only naturally capable of breathing the hydrogen sulfide of their homeworld. Their faces featured short noses, no lips, and small, thin, deep coral eyes.[3] The structure of their crowns was lumpy on the edges, with a wide depression in the center. Due to evolving on the extreme climate, atmosphere, and pressure of Skako Minor, it was required they wore pressure suits when off-world in order to survive.[4]
Appearances
Edit
Notes and references
Edit
↑ Every Language in Star Wars Movies | Star Wars By the Numbers on the official Star Wars Kids YouTube channel (backup link)
Community content is available under
CC-BY-SA
unless otherwise noted.