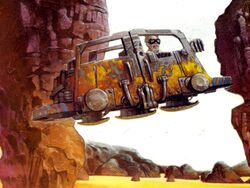 The word skimmer was a term used to describe repulsorlift vehicles such as skiffs, airspeeders, and landspeeders.
Behind the scenes
Edit
Author Aaron Allston, in the first three novels he wrote for the X-wing series (X-Wing: Wraith Squadron, X-Wing: Iron Fist and X-Wing: Solo Command), would use the word skimmer as a catch-all term for both landspeeders and airspeeders, despite the fact that skimmers were a distinctive class or subclass of repulsorlift vehicle.
Appearances
Edit
Community content is available under
CC-BY-SA
unless otherwise noted.