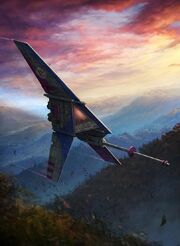 Skyhoppers were a type of repulsorlift vehicles built primarily for pleasure and sport flying. However, paramilitary forces and law enforcement agencies occasionally used armed and lightly armored skyhoppers for reconnaissance and patrol.[1]
While living on the planet Tatooine, the moisture farmer Luke Skywalker tinkered with skyhoppers and landspeeders.[2]
Tatooine youngsters, such as Luke Skywalker and Biggs Darklighter,[3] raced their modified skyhoppers and landspeeders in Beggar's Canyon near Mos Espa on non-podracing days. Speeding through the winding canyon with lightly armed repulsorcraft models such as[4] the T-16 skyhopper,[3] youngsters dreamt of becoming hometown heroes[4] as they blasted the native womp rats.[3]
Appearances
Edit
Non-canon appearances
Edit
Notes and references
Edit
Community content is available under
CC-BY-SA
unless otherwise noted.