Sleight of Hand: The Tale of Mara Jade is a short story written by Timothy Zahn for Tales from Jabba's Palace. It features Mara Jade as a dancer in Jabba's Palace.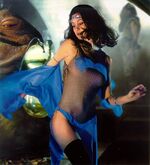 Following the Battle of Hoth, Mara Jade is sent by Emperor Palpatine to infiltrate Jabba Desilijic Tiure's Palace on Tatooine, disguised as the dancing girl Arica, in order to assassinate Luke Skywalker. However, Melina Carniss, a member of Jabba's secret security detail, suspects her of planning to assassinate the Hutt, and attempts to arrest her. Jade turns the tables on Carniss by using the Force to cause Melina to shoot one of Jabba's Gamorrean guards. Jade flees down a tunnel and comes to a ventilation shaft of the rancor pit. After fighting through three rows of guards, she is able to watch Luke kill the rancor. She then enters the ventilation shaft of the Rancor pit using a force pike, and uses the Force to open the trapdoor and follow the crowd out to the sail barge. Though she begs Jabba to let her join him and others at the Dune Sea, a suspicious Jabba instead provides her with a landspeeder and instructs her to leave and never come back after she tried to use the Force on him. Thus stymied in this attempt to fulfill her mission, Jade returns to Imperial Center and to a displeased Palpatine.
By type
Characters
Creatures
Droid models
Events
Locations
Organizations and titles
Sentient species
Vehicles and vessels
Weapons and technology
Miscellanea
Community content is available under
CC-BY-SA
unless otherwise noted.