The Sluis Van Shipyards were a series of orbital shipbuilding complexes stationed over the planet Sluis Van.
History
[
]
The facility was considered to be the best of its kind in the Outer Rim Territories. However, because the Sluissi found shipbuilding to be akin to a form of art (in addition to their rather ponderous system of bureaucracy), they were also considered to one of the slowest shipyards in the galaxy.
The shipyards was at one point built up to encompass an entire world, similar to the Kuat Drive Yards and Mon Calamari Shipyards of later millennia.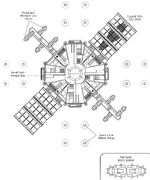 During the early years of the New Republic, The sluis Van Shipyards including Sluis Van Orbit Dock V-475, a Rendili StarDrive space dock.
During the opening campaigns of the Thrawn crisis, the shipyards were the site of a major Imperial ship-theft raid that involved fifty-one mole miners stolen from Lando Calrissian's mining facility Nomad City on the extremely hot but ore-rich planet of Nkllon. Thanks largely to timely action taken by Wedge Antilles and the pilots of Rogue Squadron as well as Lando himself along with Han Solo and Luke Skywalker, the New Republic forces were able to prevent most of the ships targeted in Thrawn's plans from being stolen and appropriated into the Imperial Navy.
In the years after the Thrawn crisis, the yards would continue to prosper.
Appearances
[
]
Timeline 6: Onslaught of the Sith Empire on The Old Republic

'

s official website (article) (backup link) (Appears in hologram)
Darth Maul: Saboteur (Indirect mention only)
Sluis Sector Secedes; Seswenna Restates Loyalty — HoloNet News Vol. 531 #49 (content now obsolete; backup link) (Indirect mention only)
Sluis Van Offer Met with Doubt — HoloNet News Vol. 531 #56 (content now obsolete; backup link)
Jedi Trial (Mentioned only)
"The Great Herdship Heist" – Star Wars Adventure Journal 15 (Mentioned only)
Operation: Elrood (Mentioned only)
Heir to the Empire (First appearance)
The New Jedi Order: Agents of Chaos I: Hero's Trial (Mentioned only)
Legacy of the Force: Exile (Indirect mention only)
Sources
[
]
Notes and references
[
]