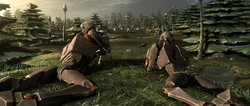 "Yeah, well, Mayfeld, he's… He's one of the best triggermen I've ever seen. Former Imperial sharpshooter."
"That's not saying much."
"I wasn't a stormtrooper, wiseass."
―Ranzar Malk, Din Djarin, and Migs Mayfeld
Sniper,[2] sharpshooter,[3] marksman,[4] markswoman,[5] or shooter, was a term to describe individuals who shot[6]—or specialized to shoot—a target from a long range.[3] Often concealing themselves in a hidden location,[6] snipers required patience and a steady, precise aim.[7]
Appearances
[
]
Sources
[
]
Notes and references
[
]