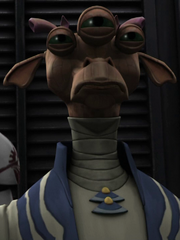 Socialism was a political and economic philosophy based upon social ownership of the means of production and the elimination of private property.
The Gran government of Kinyen was a socialist demarchy that almost eradicated poverty and unemployment from the planet. Kinyen's inhabitants had access to one of the best systems of health care in the galaxy.[1]
The People's Liberation Battalion was a socialist revolutionary front on Eiattu 6 aimed at overthrowing the planet's nobility called the Priamsta, but it was infiltrated by Imperial agents.[2]
Behind the scenes
Edit
Socialism is based on a real-world political and economic philosophy and system of government. In the non-canon Star Wars Tales comic Force Fiction, the beginning that featured a restaurant menu had Trade Federation Basic that, among other things, referenced the economist Karl Marx, whom among other things was purported to be the father of Socialism.
Appearances
Edit
Non-canon appearances
Edit
Notes and references
Edit
Community content is available under
CC-BY-SA
unless otherwise noted.