"It's over, Anakin. I have the high ground!"
―Obi-Wan Kenobi to Darth Vader
Sokan was a principle of lightsaber combat, rather than a true form. Developed by the ancient Jedi Knights during the Great Hyperspace War, Sokan teaching revolved around using the environment itself to gain a tactical advantage in combat.[1]
Sokan involved maneuvering so that swift strokes of the lightsaber could be aimed toward the opponent's vital areas, using quick tumbles, jumps, and movements. Combatants made use of large amounts of terrain, trying to maneuver their opponents into vulnerable areas during the course of battles that involved Sokan techniques. This technique allowed for great speed and mobility and left no openings in one's defense. Prior to the Clone Wars, Sokan practitioners integrated highly kinetic elements of Ataru with their ancient Sokan techniques to create a blend of styles that relied upon agility. It was recommended for practitioners to use this style in their home ground or on familiar terrain.[1]
Taking advantage of terrain to gain a defensive advantage.[2]
A rapid charge at the opponent, circumventing terrain and obstacles to cover the distance quickly.[2]
"That's it. Come to me. […] You think you're driving me back. You have no idea that I'm in control. You don't know where I'm taking you."
―Darth Maul's thoughts as he draws two Jedi into a trap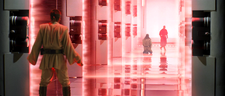 Darth Maul took an unorthodox method of Sokan as he sought a way to control his incoming duel with Jedi Master Qui-Gon Jinn and Padawan Obi-Wan Kenobi. He found his answer in the Plasma Refinery Complex, which housed laser gates that could turn for just a few seconds, leading into a narrow melting pit. When the Jedi arrived, Maul lured them into a place of his choosing, separating Jinn and Kenobi by several platforms. He went on to bait Jinn towards the melting pit, the laser gates keeping Kenobi from coming to his Master's aid.[3][4][5] Jinn, while partially realizing what his Sith adversary was up to, nonetheless persisted alone. That proved to be a mistake.[5] Not only was his fighting style, Ataru, taxing on the user,[2] but it also required open spaces for maneuverability.[6] Maul, as a result, killed the elder Jedi and nearly succeeded against Kenobi.[4]
In his brief duel with Darth Tyranus during the First Battle of Geonosis, Master Yoda used a three-point leap around the hangar in which they were fighting to evade Tyranus' bladework and regain the initiative against him.[7]
Although it was unclear whether Obi-Wan Kenobi received formal Sokan training or not, the Jedi Master did employ elements of Sokan while dueling Darth Vader on Mustafar. Toward the end of the duel, Obi-Wan sought the high ground and used his favorable positioning to defeat Vader, attacking his weak points. This was the factor that led to Vader's defeat. However, the Sith Lord seemed to have learned his lesson from this defeat and was known to use a saber throw when his opponents gained the high ground rather than pursue them, like in his final duel with his son.[8][9]
Community content is available under
CC-BY-SA
unless otherwise noted.