Doctor Strange in The Multiverse o Madness - The Loop
Play Sound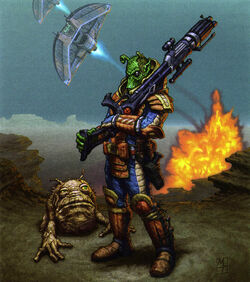 "A good soldier always knows how to use whatever equipment is at hand: computers, droids, vehicles, communications gear, and - of course - weapons. Knowing what a weapon is capable of - and more importantly, what it isn't capable of - can save your life in a tough situation."
―Colonel Marck Linth, Alliance SpecForces (5th Regiment)
Soldiers were individuals trained in a variety of martial skills and represented the core of any military force. Many of these individuals volunteered to fight for their government, but some were drafted into service. Those who fought for monetary payment were generally called mercenaries. Soldiers received basic training in a wide range of weaponry and combat tactics, from hand-to-hand combat to heavy weapons. Soldiers that received advanced training and equipment were called commandos.[2]
History
[
]
"Since the first Taung chieftain raised his spear to signal a charge, soldiers have nobly shed blood for the glory of a greater cause."
Soldiers of the Galactic Republic that served during the Old Republic era consisted of Republic soldiers and Republic troopers. During the Clone Wars, the Republic's infantry force consisted mainly of Clone troopers. The basic soldiers of the Galactic Empire's Imperial Military were the Imperial Army troopers and the stormtroopers, who were almost exclusively Human. During the Rebellion era, the Rebel Alliance's standard foot soldiers were the Rebel troopers, while the specially trained soldiers were called SpecForce, or Alliance Special Forces.[2]
Small teams of soldiers were sometimes organized into squads which consisted of four to six members and led by a higher ranking soldier. Two or more squads together formed a company. In the lead of large groups of soldiers were commanders who had great knowledge of tactics and strategy which enabled those under their command to fight with enhanced efficiency.[2] The combined forces of soldiers who fought on foot were usually referred to as infantry.
Spacefaring soldiers were known as star-warriors or marines.
Behind the scenes
[
]
Soldier is a playable starting class for the video game Star Wars: Knights of the Old Republic.
Appearances
[
]
"Seeing Red" on The Old Republic

'

s official website (article) (backup link) (Mentioned only)
Domain of Evil (Mentioned only)
"Domain of Evil" – Classic Adventures: Volume Two (Mentioned only)
"Rings of Bright Water" – Star Wars: The Roleplaying Game (as trooper)
Graveyard of Alderaan (Mentioned only)
"Graveyard of Alderaan" – Classic Adventures: Volume Two (Mentioned only)
"Swoop Gangs" – Star Wars Adventure Journal 6 (Mentioned only)
"Uhl Eharl Khoehng" – Star Wars Adventure Journal 8 (Mentioned only)
"The Bacta Heist" – Tapani Sector Instant Adventures (Mentioned only)
"A World to Conquer" – Star Wars Adventure Journal 2 (Mentioned only)
Under a Black Sun (Mentioned only)
Operation: Shadowpoint (Mentioned only)
"Dead in the Water"—Star Wars: Age of Rebellion Game Master's Kit (Mentioned only)
"Phantoms in the Dark"—Strongholds of Resistance (Mentioned only)
"Starter's Tale" – Star Wars Adventure Journal 4 (In flashback(s))
"Retreat from Coruscant" – Star Wars Adventure Journal 7 (As "trooper")
Sources
[
]
"Fizzi's Slightly Used Starships" – Star Wars Adventure Journal 9 (as trooper)
"Cracken's Rebel Operatives" – Star Wars Adventure Journal 10 (as troops)
"Vilmarh Grahrk: A Devil of a Smuggler" on Wizards.com (original article link, content now obsolete; backup link)
Star Wars Trading Card Game – Attack of the Clones (TCG) (Card: Captain Typho (A)) (backup link not verified!)
Star Wars Trading Card Game – Attack of the Clones (TCG) (Card: Clone Officer) (backup link not verified!)
Star Wars Trading Card Game – Attack of the Clones (TCG) (Card: Geonosian Sentry) (backup link not verified!)
Star Wars Trading Card Game – Attack of the Clones (TCG) (Card: Clone Warrior 4/163) (backup link not verified!)
Star Wars Trading Card Game – Attack of the Clones (TCG) (Card: Clone Warrior 5/373) (backup link not verified!)
Star Wars Trading Card Game – Attack of the Clones (TCG) (Card: Geonosian Guard) (backup link not verified!)
Star Wars Trading Card Game – Attack of the Clones (TCG) (Card: Geonosian Warrior) (backup link not verified!)
Star Wars Trading Card Game – Attack of the Clones (TCG) (Card: Kaminoan Guard) (backup link not verified!)
Star Wars Trading Card Game – Attack of the Clones (TCG) (Card: Naboo Security Guard) (backup link not verified!)
Star Wars Trading Card Game – Attack of the Clones (TCG) (Card: Chancellor's Guard Squad) (backup link not verified!)
Star Wars Trading Card Game – Attack of the Clones (TCG) (Card: Clone Platoon) (backup link not verified!)
Star Wars Trading Card Game – Attack of the Clones (TCG) (Card: Clone Squad) (backup link not verified!)
Star Wars Trading Card Game – Attack of the Clones (TCG) (Card: Flying Geonosian Squad) (backup link not verified!)
Star Wars Trading Card Game – Attack of the Clones (TCG) (Card: Geonosian Squad) (backup link not verified!)
Star Wars Trading Card Game – Attack of the Clones (TCG) (Card: Naboo Senatorial Escort) (backup link not verified!)
"Kyle Katarn, Jedi Outcast" on Wizards.com (original article link, content now obsolete; backup link)
"Cydon Prax" on Wizards.com (original article link, content now obsolete; backup link)
"Boba Fett (NJO Era)" on Wizards.com (original article link, content now obsolete; backup link)
"The Imperial Backbone" on Wizards.com (original article link, content now obsolete; backup link)
"Furry and Fury" on Wizards.com (original article link, content now obsolete; backup link)
"Fringe Benefits" on Wizards.com (original article link, content now obsolete; backup link)
"We Don't Need That Scum" on Wizards.com (original article link, content now obsolete; backup link)
"Soldiers of Fortune" on Wizards.com (original article link, content now obsolete; backup link)
"Heroes of Revenge of the Sith" on Wizards.com (original article link, content now obsolete; backup link)
"Alliance and Empire Preview 4" on Wizards.com (original article link, content now obsolete; backup link)
Xim Week: The Despotica (Part III: Xim at Vondor) on Hyperspace (article) (content removed from StarWars.com and unavailable)
Xim Week: The Despotica (Part IV: Evocar) on Hyperspace (article) (content removed from StarWars.com and unavailable)
"Arkanian Chill" on Wizards.com (original article link, content now obsolete; backup link)
"Fringe Stat Pack" on Wizards.com (original article link, content now obsolete; backup link)
"New Republic Stat Pack" on Wizards.com (original article link, backup link not available)
BARC speeder in the Encyclopedia (content now obsolete; backup link)
Boil in the Encyclopedia (content now obsolete; backup link)
clone troopers in the Encyclopedia (content now obsolete; backup link)
Flash speeder in the Encyclopedia (content now obsolete; backup link)
Gian speeder in the Encyclopedia (content now obsolete; backup link)
Jedi Order in the Encyclopedia (content now obsolete; backup link)
Rebel Troopers in the Encyclopedia (content now obsolete; backup link)
Umbarans in the Encyclopedia (content now obsolete; backup link)
Umbaran starfighter in the Encyclopedia (content now obsolete; backup link)
Star Wars: X-Wing Second Edition – Scum and Villainy Conversion Kit (Card: Black Sun Soldier) (Reissued in Z-95-AF4 Headhunter Expansion Pack)
Choose your side in the #SWTORCompanionChaos Celebration – Starting March 20! on The Old Republic

'

s official website (backup link)
Notes and references
[
]
External links
[
]