House of the Dragon Trailer - The Loop
Play Sound
"That's no moon. It's a space station."
―Obi-Wan Kenobi, upon seeing the Death Star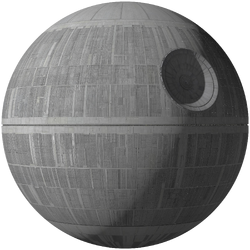 Space stations were artificial structures in space.[1] Some, like the Citadel of Rur[2] and Faos Station,[3] were stationed independently in deep space or even in nebulas.[4] Most stations were capable of being in orbit of astronomical objects, such as the Sorca Retreat.[5]
Stations commissioned for military use often had emplacements of defensive mechanisms consisting of technologies like turbolaser batteries. Some stations could mobilize and navigate through both realspace and hyperspace.[6]
The DS-1 Death Star Mobile Battle Station[7] and DS-2 Death Star II Mobile Battle Station[8] were constructed by the command of Darth Sidious, publicly known as the Supreme Chancellor of the Galactic Republic and later Emperor of the Galactic Empire.[7] The two Death Stars were also classified as battle stations, a type of space station.[6][8]
Appearances
[
]
Non-canon appearances
[
]
Sources
[
]
 Death Star in the Encyclopedia (content now obsolete; (backup link)
Star Wars Helmet Collection 23 (Databank A-Z: Hassk Triplets–Holograms; Highlights of the Saga: Assault on Endor)
Star Wars Helmet Collection 26 (Databank A-Z: Imperial Future Council–Inquisitorius; Helmets: Y-wing Pilot; Highlights of the Saga: Fall of the Malevolence)
Star Wars: Build Your Own R2-D2 1 (Building the Galaxy: Designing R2-D2, Part 1; Droid Directory: R2-series Astromech Droids, Part 1) (Picture only)
Star Wars: Build Your Own R2-D2 2 (Building the Galaxy: Designing R2-D2, Part 2; Droid Directory: 3PO-series Protocol Droids, Part 1) (Picture only)
Star Wars: Build Your Own R2-D2 3 (Building the Galaxy: Motion Control Filming) (Picture only)
Star Wars: Build Your Own R2-D2 4 (Building the Galaxy: Filming R2-D2, Part 1) (Picture only)
Star Wars: Build Your Own R2-D2 5 (Building the Galaxy: Filming R2-D2, Part 2; Droid Directory: 2-1B-series Medical Droids, Part 1) (Picture only)
Star Wars: Build Your Own R2-D2 6 (Building the Galaxy: Filming R2-D2, Part 3) (Picture only)
Star Wars: Build Your Own R2-D2 8 (Building the Galaxy: The Weapon of a Jedi) (Picture only)
Star Wars: Build Your Own R2-D2 10 (Building the Galaxy: Visual Effects Part 1) (Picture only)
Star Wars Helmet Collection 34 (Databank A-Z: Davish Krail–Kuat Drive Yards; Helmets: Death Star Trooper)
Star Wars: Build Your Own X-Wing 1 (Creating a Starship Fleet: Ralph McQuarrie – The Man Who Drew Star Wars; Starfighter Aces: Luke Skywalker – Savior of the Rebel Alliance; Rocket Science: Fighter Design) (Picture only)
Star Wars Helmet Collection 57 (Databank A-Z: Trident Assault Ship–Turbolasers; Helmets: Wedge Antilles)
Star Wars Helmet Collection 71 (Helmets: General Merrick; Highlights of the Saga: The Battle of Scarif)
 Star Wars: X-Wing Second Edition – Fireball Expansion Pack (Card: Kaz's Fireball) (Picture only)
 Star Wars: X-Wing Second Edition – Fireball Expansion Pack (Card: R1-J5 (Astromech)) (Picture only)
Season 1 Recap | The Mandalorian | Disney+ on the official Star Wars YouTube channel (backup link)
Disney Gallery: The Mandalorian: Making of Season Two (as graffiti)
Star Wars Bust Collection 2 (Star Wars Universe: Stormtroopers) (Picture only)
Jedi Knight Vernestra Rwoh: Characters of Star Wars the High Republic on the official Star Wars YouTube channel (backup link)
Avar Kriss | Characters of Star Wars: The High Republic on the official Star Wars YouTube channel (backup link)
The Nihil: Characters of Star Wars the High Republic on the official Star Wars YouTube channel (backup link)
A Deep Dive Into Star Wars: The High Republic, Bringing A Younger Yoda to Life (in VR), and More! on the official Star Wars YouTube channel (backup link)
Jedi Padawan Bell Zettifar | Characters of Star Wars the High Republic on the official Star Wars YouTube channel (backup link)
Chancellor Lina Soh | Characters of Star Wars: The High Republic on the official Star Wars YouTube channel (backup link)
Star Wars - The Official Magazine 101 (Database: Before the dark times…) (Picture only)
"Aftermath" Episode Guide on StarWars.com (backup link) (Picture only)
 4D-M1N in the Databank (backup link) (Picture only)
 Alderaan in the Databank (backup link)
 Death Star in the Databank (backup link)
 Death Star II in the Databank (backup link)
 Emperor's throne room in the Databank (backup link)
 Han Solo in the Databank (backup link)
 Kazuda "Kaz" Xiono in the Databank (backup link)
 Kef Bir in the Databank (backup link)
 Quarzite in the Databank (backup link)
 Ranzar "Ran" Malk in the Databank (backup link)
 Ringo Vinda in the Databank (backup link)
 Tiplar in the Databank (backup link)
 Torra Doza in the Databank (backup link)
Notes and references
[
]
External links
[
]