Jurassic World: Dominion Dominates Fandom Wikis - The Loop
Play Sound
"As Rukil told us, it is not an easy life. Our children will grow up in a world of spears and bows, not blasters and starships."
―Baral
A spear was a weapon used by hunters and warriors in a variety of galactic cultures, especially primitive ones, either as a melee or thrown weapon.
Description
[
]
A spear consisted of a shaft, with a point at one end that was usually made of stone or metal.[1][2] Spears were often constructed in a balanced way that allowed it to be used effectively as a thrown weapon.[2]
Different types of spears included the bevii'ragir, a traditional Mandalorian spear used for hunting,[4] a static pike used by Geonosians, the shoni spear favored by the Kaleesh, stone-bladed spears used by Whiphid warriors, and the gruush,[5][6] a pointed tool used by the Sauvax species that could also be used as a weapon.
Spears constructed of durable metal alloys were sometimes used by more advanced cultures for sport.[2]
History
[
]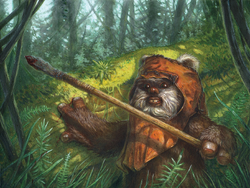 Many spears were used by primitive species.[1] The Amanin of the jungle planet Maridun used spears. Amanin spears were sharpened wooden shafts approximately two and half meters in length.
The former clone commando-turned-Mandalorian soldier, Fi Skirata, made use of a traditional Mandalorian hunting spear known as a bevii'ragir. Wad'e Tay'haai, a Mandalorian member of the Cuy'val Dar and an associate of Skirata's clan, owned an ancient spear cast from bronzium.[4]
On Orto Plutonia, the members of the Talz species used spears against the forces of the Galactic Republic, one even causing the death of the Pantoran Chairman, Chi Cho.[7]
During the Clone Wars, the Quarren of Dac used thre-pointed spears, known as a trident.[8] Decades later, during the Galactic Civil War, some Quarren made use of four-pointed spears.[9]
On Endor, the members of the Ewok tribes used them to ward off attackers, most notably against the Galactic Empire during the Battle of Endor in 4 ABY.[10]
Appearances
[
]
Non-canon appearances
[
]
Sources
[
]
Notes and references
[
]
External links
[
]