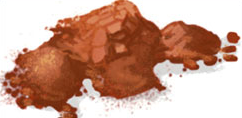 "Spice, in any of its dozens of varieties, was the plague on the galaxy; a horribly addicting drug that its victims would lie, steal, assault, and murder for."
―Reflections of Eli Vanto
Spice was the name for a type of illicit substance or substances in demand throughout the galaxy. Spice was mined at the spice mines of Kessel, where Wookiee slaves were worked to death turning medicinal spice mineral into a recreational drug. Spice mines could be found in several other planetary systems throughout the galaxy, including those of Ryloth and Naboo.[1] One variation of the narcotic known as ryll was mined on the planet Ryloth and had both scientific and recreational applications.[2] Sansanna spice was a type of spice that could be found throughout the galaxy.[3]
The word "spice" could also refer to certain non-narcotic substances used to give foods or drinks flavor, such as salt.[4][5]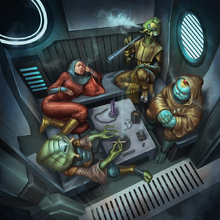 The Pyke Syndicate used raw spice to create a powerful drug that Supreme Chancellor Finis Valorum sent Jedi Master Sifo-Dyas to investigate.[6]
An assassination attempt against Senator Padmé Amidala was initially suspected to be the work of disgruntled spice miners on the moons of Naboo, though it later transpired that the assassin was in fact hired by Count Dooku, the leader of the Separatists.[7]
When the Ohnaka Gang captured Count Dooku, they demanded a million credits in spice delivered in an unarmed diplomatic ship in exchange for handing him over to the Jedi.[8] After Obi-Wan Kenobi and Anakin Skywalker were captured during a meeting to verify that the pirates did indeed have Dooku, the Gungan Jar Jar Binks and Senator Kharrus were sent with the demanded spice, though it was rendered irrelevant, as Dooku had already escaped by the time they arrived with it.[9]
Imperial Moff Delian Mors was a known user of spice, and Colonel Belkor Dray noted that he could operate well despite its effects.[2]
Ensign Baz was a known spice user and because of this was relieved from duty on the Carrion Spike by Moff Tarkin during a voyage to Coruscant shortly after an attack on Sentinel Base.[10]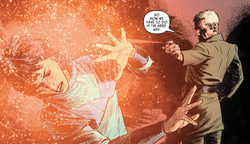 Imperial Moff Ghadi used a variant of spice known as polstine spice to blackmail Arihnda Pryce, then an aide to Lothal Senator Domus Renking. He described the spice as "highly prized, highly expensive, and highly illegal", and evidently even a light dusting on one's clothes was enough to guarantee a life sentence in prison.[11]
A pre-spice variant called scarn was the subject of a land dispute between the native Cyphari of the Afe clan led by Chief Joko and the human colonists led by Mayor Pord Benchel. The land dispute was engineered by human colonists Clay Tanoo, Lenora Scath, Brigte Polcery, and mercenary Nightswan as a means to gain access to the large scarn vein under the Afe Clan land. The conspiracy was quickly unraveled by Commander Thrawn and Ensign Eli Vanto, who brought a swift end to the land dispute by scorching and destroying the scarn vein with the help of TIE fighter pilot Lieutenant Gimm and Lieutenant Commander Osgoode.[11]
When Imperial forces boarded the Tantive IV, C-3PO was worried that he and R2-D2 would be sent to the spice mines of Kessel.[12]
Behind the scenes
Edit
It has been posited that Frank Herbert's seminal book, Dune (1965), influenced Star Wars heavily. Spice plays a central role in the Dune universe.
Spice was first mentioned at the beginning of the original Star Wars with C-3PO's worry to R2-D2 that "We'll be sent to the Spice Mines of Kessel, smashed into who-knows-what!" Spice was also briefly mentioned in Attack of the Clones of the prequel trilogy and a payment of spice was an important plot element in two installments of Star Wars: The Clone Wars. In canon, the details of what, exactly, spice was were kept quite vague until "The Lost One" in Star Wars: The Clone Wars, which clearly identified it as being used to make a dangerous drug, corroborated by reference material for Star Wars Rebels clearly establishes it as a dangerous drug. Numerous stories from the Expanded Universe, later re-branded as Star Wars Legends gave details on the spice trade, describing it as consisting a number of different types of mind-altering drugs, such as ryll and glitterstim.
Appearances
Edit
Age of Republic - Darth Maul 1 (Mentioned only)
Star Wars: Episode II Attack of the Clones (First appearance)
Jedi of the Republic – Mace Windu, Part III (Mentioned only)
Star Wars: The Clone Wars – "Dooku Captured" (Mentioned only)
Star Wars: The Clone Wars – "Mystery of a Thousand Moons" (Mentioned only)
Star Wars: The Clone Wars – "Tipping Points" (Mentioned only)
Star Wars: The Clone Wars – "The Lawless" (Appears in flashback(s))
Kanan 4: The Last Padawan, Part IV: Catch (Mentioned only)
Adventures in Wild Space: The Steal (Mentioned only)
Adventures in Wild Space: The Dark (Mentioned only)
Lords of the Sith (Mentioned only)
Tarkin (Mentioned only)
Most Wanted (Mentioned only)
Solo: A Star Wars Story: Expanded Edition (Mentioned only)
Solo: A Star Wars Story Adaptation 3 (Mentioned only)
Thrawn, Part IV (Mentioned only)
Battlefront: Twilight Company (Mentioned only)
Star Wars Rebels: Spark of Rebellion (Mentioned only)
The Rebellion Begins (Mentioned only)
Servants of the Empire: Rebel in the Ranks (Mentioned only)
Leia, Princess of Alderaan (Mentioned only)
Choose Your Destiny: A Han & Chewie Adventure (Mentioned only)
Star Wars: Episode IV A New Hope (First mentioned)
A New Hope: The Princess, the Scoundrel, and the Farm Boy (Mentioned only)
"We Don't Serve Their Kind Here"—From a Certain Point of View (Mentioned only)
Smuggler's Run: A Han Solo & Chewbacca Adventure (Mentioned only)
Chewbacca, Part II (Mentioned only)
Chewbacca, Part IV (Mentioned only)
Heir to the Jedi (Mentioned only)
The Weapon of a Jedi: A Luke Skywalker Adventure (Mentioned only)
Darth Vader 7: Shadows and Secrets, Part I (Indirect mention only)
Star Wars 9: Showdown on the Smuggler's Moon, Part II (Mentioned only)
Star Wars 11: Showdown on the Smuggler's Moon, Part IV (Mentioned only)
Star Wars 22: The Last Flight of the Harbinger, Part II (Mentioned only)
Star Wars: The Empire Strikes Back junior novelization (Mentioned only)
Return of the Jedi: Beware the Power of the Dark Side! (Mentioned only)
Star Wars: Return of the Jedi junior novelization (Mentioned only)
Aftermath (Mentioned only)
Aftermath: Empire's End (Mentioned only)
Phasma (Mentioned only)
Poe Dameron 2: Black Squadron, Part II (Mentioned only)
Poe Dameron Annual 1 (Mentioned only)
Poe Dameron 23: Legend Found, Part IV (Mentioned only)
Star Wars Resistance – "Signal from Sector Six" (Mentioned only)
Join the Resistance: Escape from Vodran (Mentioned only)
Notes and references
Edit