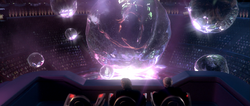 Squid Lake was a Mon Calamari ballet. Shortly after the Battle of Coruscant, the dance was performed at the Galaxies Opera House on Coruscant. It was during this performance that Supreme Chancellor Palpatine told Anakin Skywalker the story of Darth Plagueis and how the Dark Lord of the Sith was able to save those he loved from death.[1]
Community content is available under
CC-BY-SA
unless otherwise noted.