"The strongest stars have hearts of kyber."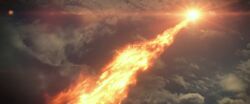 Stars were massive, glowing, spheres of plasma and gas that produced their own light and energy. Stars that were the central body of a planetary system were referred to as suns.
Description
[
]
"When I served under Leia... She would say that hope is like the sun. If you only believe in it when you can see it-"
"You'll never make it through the night."
―Amilyn Holdo and Poe Dameron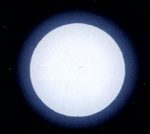 Stars were large celestial bodies that generated heat, light and radiation and consisted of a mass of burning plasma and gas.[3] Resistance member Karé Kun once referred to them as "giant balls of exploding gas."[4] During the High Republic Era, stars were assigned to a specific class by their chemical properties, such as R-class stars being unusually nitrogen-heavy.[5]
Types of stars
[
]
There were seven types of main sequence stars in the galaxy:[6]
With O-class stars being the biggest in the sequence, the size decreased gradually to the smallest M-class stars.[6]
The non-main sequence stars include:[6]
Pre-main sequence (smaller than M-class stars):[6]
Post main-sequence (bigger than O-class stars):[6]
Compact stars:[6]
Other exotic star types existed that did not fit precisely into this system of classification. These included Asar, considered a blue dwarf,[7] and yellow dwarfs.[8]
Starbirth
[
]
Stars formed in areas of space known as stellar nurseries,[9] through a collision of energies in the form of pressure and heat, a process which shaped the space around it and could be seen from millions of kilometers away.[10] The ignition of a planet's core by an outside force could also result in the formation of a star.[11] After their birth, stars went through various stages during their life, such as a yellow dwarf expanding to become a red giant.[8] Plants drew sustenance from sunlight.[12]
Stars and planets
[
]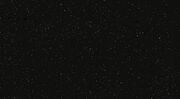 Most stars were orbited by a set of planets and other bodies.[13] In that case, they were referred to as suns. A sun, together with all the bodies bound to it, formed a planetary system. In some cases, a planetary system could contain several suns, as was the case around the planets of Tatooine[14] and Mon Cala.[15]
A planet revolving around a star normally received light and warmth from it,[8] although there were exceptions. Umbara was known as the "Shadow World" because the rays of its sun never completely reached the planet's surface, keeping it in perpetual darkness.[16] In the night sky, remote stars looked like mere points of light.[13] By convention, those points of light were grouped into constellations.[17] Without a star, most worlds would become lifeless and frozen. The size and distance of a sun would affect many of the features of a planet orbiting it.[18]
On the planet Coruscant, stars were hard to see, due to all the city lights of the sprawling ecumenopolis. However, according to young Obi-Wan Kenobi, one could see them if they knew how to look. Stars could be used for navigation: When young Kenobi returned to the Jedi Temple after trying to help fellow Jedi Initiate Gehren Rand, who had run away, he used the stars to find his way home.[19]
Appearances
[
]
Non-canon appearances
[
]
Sources
[
]
Notes and references
[
]
↑ 6.00 6.01 6.02 6.03 6.04 6.05 6.06 6.07 6.08 6.09 6.10 6.11 6.12 6.13 6.14 6.15 6.16 6.17 6.18 6.19 6.20 6.21 Star Wars: Build the Millennium Falcon 34 (Guide to the Galaxy: Types of Stars)
↑ Tatooine in the Databank (backup link)
↑ Mon Cala in the Databank (backup link)
↑ Umbara in the Databank (backup link)
External links
[
]