Jurassic World: Dominion Dominates Fandom Wikis - The Loop
Play Sound
Star Wars: 1313 was a video game in development at LucasArts. It was to follow the bounty hunter Boba Fett navigating Level 1313, a subterranean metropolis within the planet Coruscant.[2]
Gameplay
[
]
The player would have taken on the role of an unidentified bounty hunter,[2] who would soon be killed by a mysterious figure, subsequently revealed to be Boba Fett.[3] The player would then take control of Boba Fett for the duration of the game, finding themselves navigating Coruscant's underworld metropolis of Level 1313. Various "exotic" weapons would have been utilized as the player uncovered a criminal conspiracy.[2]
Development
[
]
"1313 was going for a 'Mature' rating, great news for anyone who believes Star Wars' more child-centric offerings have been its most disappointing. For LucasArts this doesn't mean gore and sensationalism, it means adult-themes and stories, another reason for glowing anticipation."
"Sometimes games pursue an M rating because of this desire to do something gratuitously gory, and that's not what we're doing at all. I just don't think those kinds of things go with Star Wars. So when we talk about making something that's mature-themed, it really is about those characters, the type of story content we're going to be dealing with, and the kind of things they're motivated by. The world itself as well."
―

Colin Campbell

and Dominic Robilliard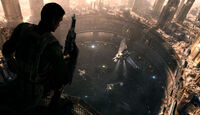 Star Wars: 1313 had its formal reveal at the Electronic Entertainment Expo (E3) in June 2012. The game was being developed by various departments of LucasArts, Industrial Light & Magic, Lucasfilm Animation, and Skywalker Sound. It was built in the Unreal engine and was slated to feature full-body performance capture. The game appeared to emphasize fast paced combat, centered around human skills and physical weapons instead of Force powers. The game was also planned to feature a combination of cover-based combat, platform gameplay, and "playable cinematic gameplay."[2] It was originally conceived as a direct tie-in to Star Wars: Underworld.[5]
The game was first hinted at on the website GameTrailers TV on March 31, 2012, in a landing page message that has since been taken down. Before its removal, the message stated that Star Wars 1313 would be announced at the 2012 Electronic Entertainment Expo (commonly known as E3), which was held from June 5 to June 7. Star Wars 1313 was revealed at E3, confirming several facts and stating there is no release date as of yet.[2] At Gamescon 2012, a gameplay trailer was released, showing new footage from the game.[6]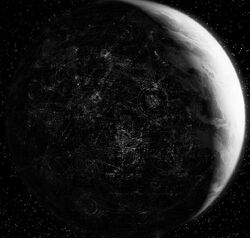 According to interviews done in connection with Jason Schreier's book Blood, Sweat, and Pixels, the game was first conceived in 2009. The LucasArts staff was inspired by Grand Theft Auto, but that idea was quickly dropped due to its complexity. Another idea touted was to use a system similar to Gears of War. The game's background evolved throughout the year under the direction of company president Paul Meegan, and the title was settled on based on Coruscant's underground levels. The design would make use of the Unreal Engine. As the game was in development, Star Wars creator George Lucas suggested that it tie into the Star Wars: Underworld live-action tv series.[7]
The LucasArts staff decided to reveal the game at E3 2012 during the pre-production period. By that time, they had several drafts of the story done and the levels mapped out, and had hired Wilson Bethel to play the protagonist. Then two months before the convention, George Lucas mandated that the game star a young Boba Fett.[7]
After a successful showing at E3, the studio continued production during the next few months. Then in September of that year, president Meegan quit and the company was put on a hiring freeze. Then shortly afterward, Lucas announced the sale of the company to Disney. The staff continued to work on it, including producing demos to show the game to their new shareholders and later Electronic Arts. This lasted until the eventual reorganization of LucasArts.[7]
After a period of developmental limbo following The Walt Disney Company's acquisition of the Star Wars franchise, production on Star Wars: 1313 was terminated when Disney closed down LucasArts and laid off its staff on April 3, 2013.[8] On January 18, 2014, a report emerged indicating that Disney had abandoned the trademark for 1313.[9] According to sources for gamespot.com, the game had experienced major production difficulties that put it in "danger" of being released even before the Disney acquisition.[10] In December 2015, Kathleen Kennedy told Slashfilm that Lucasfilm had been looking at the material for both 1313 and Underworld, and that those projects may still be developed.[11]
Jesse Harlin, former composer at LucasArts, was set to create the game's music: "I was getting to do a lot of stuff with the music that I hadn't had an opportunity to do before too—I was creating music for street performers who would play in back alleys, there were Star Wars dance clubs that you couldn't even go into but I was having to think: what does an alien dance club sound like?" Among his work for the game, he told PC Gamer about writing a "Massive Attack-meets-Star Wars song."[12] He later revealed on his personal Twitter one of the background characters that was in development for the game, saying "At LucasArts working on Star Wars: 1313, I was writing hip-hop for a malfunctioning protocol droid named 80-HD. He probably looked like this." The character's name comes from the name of a fictional rap artist that first appeared in LucasArts's 2006 theme park simulation game Thrillville.[13]
On January 26, 2022, further gameplay leaked on The Vault YouTube channel, showcasing Boba Fett gameplay.[14][15]
Reception
[
]
Although the game is unreleased, Geek.com named 1313 as the game of the year for 2016.[16]
Credits
[
]
Appearances
[
]
By type
Characters
Droid models
Locations
Organizations and titles
Sentient species
Vehicles and vessels
Weapons and technology
Miscellanea
Sources
[
]
Notes and references
[
]
↑ Rosenberg, Adam: Star Wars 1313 will be the product of an evolved LucasArts (2012-07-28). Digital Trends. Archived from the original on September 28, 2019.
↑ 2.0 2.1 2.2 2.3 2.4 Parker, Laura: LucasArts unveils Star Wars game 1313 (2012-05-31). GameSpot. Archived from the original on August 10, 2019.
↑ Schreier, Jason: Before It Was Cancelled, Star Wars 1313 Was Going To Be About Boba Fett (2013-04-04). Kotaku. Archived from the original on January 8, 2020.
↑ 4.0 4.1 4.2 Campbell, Colin: Star Wars 1313 Aims for the Thinking Gamer (2012-06-19). IGN. Archived from the original on November 21, 2018.
↑ Totilo, Stephen: The Strange Status Of Star Wars: 1313, A Hot Game With An Uncertain Future (2013-03-01). Kotaku. Archived from the original on November 13, 2018.
↑ LucasArts shows off new 'Star Wars 1313' trailer at Gamescom (2015-08-14). Polygon. Archived from the original on April 8, 2016.
↑ 7.0 7.1 7.2 Schreier, Jason. "Star Wars 1313". Blood, Sweat, and Pixels: The Triumphant, Turbulent Stories Behind How Video Games Are Made. Harper, 2017. ISBN 0062651234.
↑ Schreier, Jason: Disney Shuts Down LucasArts, Cancels Star Wars 1313 And Star Wars: First Assault (2013-04-03). kotaku.com. Kotaku. Archived from the original on March 1, 2020.
↑ Maiberg, Emanuel: Disney abandons Star Wars 1313 trademark (2014-01-18). GameSpot. Archived from the original on September 19, 2016.
↑ Makuch, Eddie: Star Wars 1313 was always in danger - Report (2013-04-04). gamespot.com. Archived from the original on October 11, 2020.
↑ Sciretta, Peter: Lucasfilm Still Looking At George Lucas' Live Action Star Wars TV Show And Star Wars 1313 (2015-12-09). Slashfilm. Archived from the original on March 2, 2020.
↑ Donnelly, Joe: Mafia 3's composer talks the blues, Star Wars 1313 and mariachi bands in Monkey Island (2016-10-05). pcgamer.com. Archived from the original on January 31, 2020.
↑ Jesse Harlin (@oogew) on Twitter: "At LucasArts working on Star Wars 1313, I was writing hip-hop for a malfunctioning protocol droid named 80-HD. He probably looked like this." (screenshot)
↑ Walker, Ian: Canceled Star Wars Game Footage Teases Boba Fett Bounty Hunting Action (2022-01-27). Kotaku. Archived from the original on January 30, 2022.
↑ Minor, Jordan: Game of the Year: Star Wars 1313 (2016-11-30). geek.com. Archived from the original on October 30, 2017.
↑ Franich, Darren: 'Star Wars 1313' exclusive: Enter the underworld (2012-06-01). Entertainment Weekly. Archived from the original on January 2, 2016.
↑ Welcome to level 1313 on the official Star Wars YouTube channel (backup link)
External links
[
]