"Right now I feel I can take on the whole Empire myself."
―Dak Ralter
Star Wars: Age of Rebellion is the second roleplaying game in the Star Wars Roleplaying Game series, a series of cross-compatible roleplaying games published by Fantasy Flight Games under their license to create Star Wars-themed games, and a sequel to Edge of the Empire.[2] A beta test of Age of Rebellion was released in September of 2013.[3] At GenCon in August 2012, it was announced that Sterling Hershey was one of the designers of the game.[1] Hershey revealed on his blog at that time the plans Fantasy Flight had for the franchise, announcing Age of Rebellion for 2014 release, and Force and Destiny in 2015.[1] The Beginner Game for Age of Rebellion was released in May of 2014[4] and the Core Rulebook came out on July 1, 2014.
Publisher's summary
Edit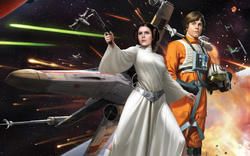 "Right now I feel like I could take on the whole Empire myself."—Dak Ralter
Strike a blow for galactic freedom as a hero of the Rebel Alliance! You'll soon have your chance to join the beta test for the Star Wars: Age of Rebellion Roleplaying Game.
The second of three epic, cross-compatible Star Wars roleplaying systems, Age of Rebellion will soon be made available for beta testing through our webstore and participating retailers.
Adventure modules
Edit
Mini adventures
Edit
Rules Supplements
Edit
Sourcebooks
Edit
Content summary
Edit
Player Character Species

Career Paths and Specializations

Ace

Driver
Gunner
Pilot
Beast Rider
Hotshot
Rigger

Commander

Commodore
Squadron Leader
Tactician
Figurehead
Instructor
Strategist

Diplomat

Ambassador
Agitator
Quartermaster
Advocate
Analyst
Propagandist

Engineer

Mechanic
Saboteur
Scientist
Droid Specialist
Sapper
Shipwright

Soldier

Commando
Medic
Sharpshooter
Heavy
Trailblazer
Vanguard

Spy
Recruit (no military training)

Starships

Starfighters and Patrol Boats

Freighters and Transports

Gunships

Cruisers

Battleships
The following is the suggested, but not required, playing order:
Takeover at Whisper Base/Operation: Shadowpoint (Beginner Game), Perlemian Haul (Core Rulebook), "Operation: Shell Game" (Beta book), Dead in the Water (Gamemaster's Kit), Onslaught at Arda I.
Bibliography
Edit
Notes and references
Edit
Community content is available under
CC-BY-SA
unless otherwise noted.