Cobra Kai Season 4 - The Loop
Play Sound
"Right now I feel I can take on the whole Empire myself."
―Dak Ralter
Star Wars: Age of Rebellion is the second roleplaying game in the Star Wars Roleplaying series, a series of cross-compatible roleplaying games published by Fantasy Flight Games under their license to create Star Wars-themed games, and a sequel to Edge of the Empire.[2] A beta test of Age of Rebellion was released in September of 2013.[3] At GenCon in August 2012, it was announced that Sterling Hershey was one of the designers of the game.[1] Hershey revealed on his blog at that time the plans Fantasy Flight had for the franchise, announcing Age of Rebellion for 2014 release, and Force and Destiny in 2015.[1] The Beginner Game for Age of Rebellion was released in May of 2014[4] and the core rulebook was released on July 1, 2014.
Publisher's summary
[
]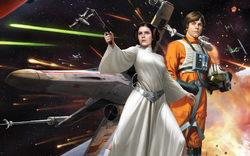 "Right now I feel like I could take on the whole Empire myself."—Dak Ralter
Strike a blow for galactic freedom as a hero of the Rebel Alliance! You'll soon have your chance to join the beta test for the Star Wars: Age of Rebellion Roleplaying Game.
The second of three epic, cross-compatible Star Wars roleplaying systems, Age of Rebellion will soon be made available for beta testing through our webstore and participating retailers.
Products
[
]
Adventure modules
[
]
Mini adventures
[
]
Rules Supplements
[
]
Sourcebooks
[
]
Content summary
[
]
Campaign
[
]
The following is the suggested, but not required, playing order:
Takeover at Whisper Base/Operation: Shadowpoint (Beginner Game), Perlemian Haul (Core Rulebook), "Operation: Shell Game" (Beta book), Dead in the Water (Gamemaster's Kit), Onslaught at Arda I.
Sources
[
]
Notes and references
[
]
External links
[
]