Star Wars: Chewbacca is the trade paperback collection of the series of comics entitled Star Wars: Chewbacca. This volume collects Star Wars: Chewbacca issues 1-4.
Publisher's summary
Edit
When the Star Wars galaxy's greatest Wookiee met his heroic end in the The New Jedi Order novel The New Jedi Order: Vector Prime, shockwaves ran through the ranks of Star Wars devotees everywhere. And now Dark Horse presents a commemorative collection detailing, for the first time ever, the history of the mighty Chewbacca! Written by longtime Star Wars writer Darko Macan, Chewbacca features a series of tales narrated by the characters who knew him best—including Lando Calrissian, Princess Leia, Han Solo, and Luke Skywalker—that reveals special glimpses not only of Chewbacca's heroic history, but of the mysterious and fascinating culture of his noble species. Don't miss the opportunity to say goodbye and farewell to this beloved character!
Collected issues
Edit
External links
Edit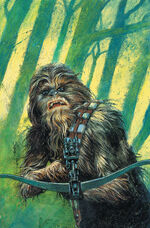 Community content is available under
CC-BY-SA
unless otherwise noted.