"[George Lucas] thought that the best characters to use would be the ones who weren't so heavily tied into the movies' plots, such as R2-D2 and C-3PO. They're the running characters in the Star Wars universe. The droids would be a natural for animation because they could go all over the universe and get involved with all sorts of creatures and worlds that didn't necessarily have Luke Skywalker, the Empire or any of those elements. The only constants would be Artoo and Threepio."
―Droids associate producer and story editor Paul Dini in 1988
Star Wars: Droids: The Adventures of R2-D2 and C-3PO is an animated television series that features the exploits of the droids C-3PO and R2-D2 who, over the course of their adventures, often find themselves in the company of new masters—and in new dangerous and difficult situations as a result. The series is set in 15 BBY—between the events depicted in Star Wars: Episode III Revenge of the Sith and Star Wars: Episode IV A New Hope.
"I've always been interested in animation. And, again, it's a chance to experiment with ideas and new people and Star Wars characters. The Star Wars world is much easier to deal with in animation. You can be much more flexible in development of ideas. I've put off doing it for years because I didn't have the time."
―George Lucas, in Starlog 100
Star Wars creator George Lucas had long been interested in animation, and had wanted to tell Star Wars stories in an animated form.[4] During production of The Star Wars Holiday Special in 1978, director David Acomba showed Lucas a recent film made by Clive A. Smith's animation company Nelvana. This convinced Lucas to hire the company to produce the animated segment for that film. Lucas was pleased with their work, and in 1984, he again hired them to work on the two animated series he was developing, Droids and Ewoks. These two subjects were chosen because they would appeal to young audiences and because, as the future of the film franchise was uncertain, they would be the least likely characters to conflict with the stories of the feature films.[5] With these two shows, Lucas (who served as executive producer) hoped to raise the standards for Saturday morning animation; he wanted the animation and voice acting to be better than the average shows of the time.[6] Anthony Daniels felt the same: "I didn't want to do it. I had to be convinced that it was going to be better. I'm no mug—I wouldn't support something just because Lucasfilm was doing it."[7]
"The challenge on Droids was that you essentially had the Star Wars story to bring forward without Luke, Leia, Darth Vader and Han Solo."
Pre-production began in May of 1984. During this time Lucas met with the series' producers, directors and writers, who collaborated on story ideas.[6] The stories were inspired by the science-fiction stories of Jean Giraud—specifically The Airtight Garage.[5] The production team tried to convince Lucas to bring other main characters from the original trilogy, but he insisted it be focused on the droids.[1] Lucas laid out his basic ideas for the series, but wasn't involved with day-to-day matters. As the episodes were being worked on, rough cuts were screened for him.[6] After reading the scripts, Daniels would sometimes rewrite lines of dialogue if he felt they didn't fit his character.[7] The series was under strict broadcast standards, and there were limitations—set by ABC's Standards and Practices Board—as to what could be shown or dealt with in the episodes.[6][5][4] Writer Paul Dini commented on this in a 2004 interview: "...we were dealing with a regime at the network that just wanted safe children's programming. Every time we wanted to stretch it a little bit, they would kick up a fuss over it."[8]
The show's animators tended to specialize in either characters, locales or machinery.[1] The Korean company Hanho Heung-Up struggled with the show's designs, which often encompassed up to 24,000 cels per episode. As a result, Clive Smith moved to Korea for eight months in order to assist the company. Smith estimated that each hour-long pair of Droids and Ewoks episodes cost approximately $500,000 to $600,000 to produce,[5] making them amongst the more expensive animated series for that time.[4] The opening theme—"In Trouble Again"—was performed by Stewart Copeland of the band The Police and written by Copeland and Derek Holt,[6][5] and the show's new-wave score was created by Patricia Cullen, David Greene and David Shaw.[9]
Droids debuted on September 7, 1985 as part of the Ewoks and Droids Adventure Hour. ABC aired a preview special a few days prior entitled The ABC Saturday Sneak Peek and Fun Fit Test w/ Tony Danza, C-3PO and R2-D2. (In the special, Olympic gymnast Mary Lou Retton teaches gymnastics to Danza and the droids.)[5] After airing a full season of 13 episodes, Droids was cancelled, due in part to to its high production costs (which were a result the high level of design required relative to other Saturday morning animation of the time). However, a new one-hour special later aired in 1986,[1] and the first season was rebroadcast alongside the second season of Ewoks.
In the mid 1990s, beginning in 1994, the US Sci-Fi Channel ran episodes of the series, along with those of its counterpart, Star Wars: Ewoks, on its "Cartoon Quest" and "Animation Station" blocks of programming.[1][10][11]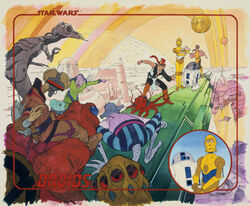 In 1985, Kenner produced a toy line based on the series, including action figures, ship models, and other items. Random House also published a series of children's books based on various episodes of the series. An LP record and a cassette featuring music from the show were released in France.[12] In 1986, Marvel Comics' Star Comics imprint published a Droids comic book, which was based on the cartoon series. The comic also had the name Star Wars: Droids. The comic series takes place between 10-6 BBY, unlike the TV series which was placed around 15 BBY. The bimonthly series ran for a year, ending with issue #8. Significant issues include #4, which crossed over with the Ewoks comics series, and # 6-8, whose story was titled "Star Wars According to the Droids", retelling Star Wars: Episode IV A New Hope with new scenes told from the perspective of the droids. It is of note that the series was drawn by comic legend John Romita. Dark Horse Comics also ran a couple of Droids mini-series in 1994 and 1995. A Droids computer game was released in 1988 for the ZX Spectrum and Amstrad CPC home computers.
After the series finished production, Nelvana sent the majority of pre-production materials to Lucasfilm, who later partnered with the former company Royal Animated Art to sell these materials to private owners. Some were bought by a California business,[1] and some were later given out as part of the Hyperspace fan club.[13] In 2007, Gentle Giant released an animated maquette of Boba Fett based on Fett's appearance in the series. It was a Celebration exclusive; out of the 1000 produced, 700 were sold at Celebration IV, while the remianing 300 were sold at Celebration Europe.[14] Also at Celebration IV, Droids merchandise was auctioned off from the Lucas Licensing archives.[15][16][17] In 2010, StarWars.com celebrated the 25th anniversary of both Droids and Ewoks by featuring a series of articles about the collectibles available from each series.[18] In 2015, Gentle Giant re-released several Droids figures as 12" convention exclusives.[19]
The series received its first home video release in England and Germany in 1988 through CBS/Fox Video and featured twelve of the episodes, omitting episode nine, "Coby and the Starhunters". In 1990, J2 Communications released The Star Wars Trilogy Animated Collection. The collection consisted of three VHS tapes; one tape contained one episode, while the other two tapes contained two episodes each—with one of those repeating the episode from the single-episode tape. Each tape began with a Star Wars Animated Classics trailer promoting the "Special Double Length Edition" volumes. However, for the single volume tapes, the white box covers were shown, but differing content was advertised.[1][10] All thirteen episodes including The Great Heep were released on Region 1 VHS in Mexico through CBS/FOX.
On June 26, 2002, prequel trilogy producer Rick McCallum responded to a question about a complete DVD release on StarWars.com's now defunct "Ask the Jedi Council" feature, in which he said "I hope so. Definitely. At some point after we're finished with Episode III, we'd really like to make all of that material available to our fans on DVD. Unfortunately, we won't be even thinking of making any firm plans until we're finished with this trilogy."[20] He also expressed this privately to Paul Ens.[21] According to Pablo Hidalgo, a full series release was considered as an alternative to the Animated Adventures DVDs: "I don't know what numbers are run in the mysterious background that decides to say 'You know what? That doesn't look like a product that we can move.'"[22] At 2005's Celebration III, McCallum and Lucasfilm's Vice President of marketing Jim Ward dodged questions about a complete DVD release of the series.[23]
At the Celebration VI "StarWars.com and Beyond" panel, it was mentioned that both Droids and Ewoks may be streamed on StarWars.com in the future.[24] In April 2021, StarWars.com announced that the series will be released on Disney+ later that year.[25]
Droids is set in the nineteen-year period between the rise of the Galactic Empire in Star Wars: Episode III Revenge of the Sith, and the events of Star Wars Episode IV: A New Hope.[1] However, Revenge of the Sith introduced a seeming continuity error; At the end of that film, the droids are entrusted to Raymus Antilles, whom C-3PO refers to in A New Hope as "our last master." However, in the Droids series, the droids have numerous masters before Captain Antilles. Star Wars: The Ultimate Visual Guide explains this continuity issue, mentioning that the droids were "accidentally separated" from Antilles "before returning to Captain Antilles' ship, the Tantive IV." This explanation was further detailed when Corla Metonae's backstory was developed by Billy Buehler (AKA The2ndQuest) for Hyperspace's What's The Story? feature, according to which, she was the person responsible for this separation.[26] The circumstances behind the separation were further elaborated on in the StarWars.com blog series The Droids Re-Animated, which specifically cited an unexpected raid on the Tantive IV by the pirate group Lok Revenants that forced them to abandon the escape pods they had jettisoned during a routine test, which R2-D2 and C-3PO had been inside at the time.
The Star Wars prequel trilogy contains many elements which appear to reference and/or resemble elements from Droids.[1][3] Star Wars: Episode I The Phantom Menace shows a Toong and mentions Tund—the species' second homeworld, both of which first appeared in the novel series The Lando Calrissian Adventures. In "A Race to the Finish," the droids end up at a race known as the "Boonta Race." A similar name was used for the podrace in The Phantom Menace, known as the "Boonta Eve Classic." The swamp planet of Bogden is a planet visited by the droids in the series. In Star Wars: Episode II Attack of the Clones, Jango Fett says that he was "recruited by a man called Tyranus on one of the moons of Bogden." Jann Tosh's wheel bike was retconned as a predeccesor to General Grievous's vehicle in Revenge of the Sith.[27]
The Expanded Universe also incorporated various elements from the series. The Shadows of the Empire soundtrack contains liner notes with the lyrics of "Dha Werda Verda," written by Ben Burtt. The lyrics contain references to the planet Roon from the series. Admiral Screed appears in HoloNet News and Star Wars: Rebellion.
| Episode | Image | Title | Original Airdate |
| --- | --- | --- | --- |
| 1 | | "The White Witch" | September 7, 1985[5] |
| 2 | | "Escape Into Terror" | September 14, 1985[5] |
| 3 | | "The Trigon Unleashed" | September 21, 1985[5] |
| 4 | | "A Race to the Finish" | September 28, 1985[5] |
| 5 | | "The Lost Prince" | October 5, 1985[5] |
| 6 | | "The New King" | October 12, 1985[5] |
| 7 | | "The Pirates of Tarnoonga" | October 19, 1985[5] |
| 8 | | "The Revenge of Kybo Ren" | October 26, 1985[5] |
| 9 | | "Coby and the Starhunters" | November 2, 1985[5] |
| 10 | | "Tail of the Roon Comets" | November 9, 1985[5] |
| 11 | | "The Roon Games" | November 16, 1985[5] |
| 12 | | "Across the Roon Sea" | November 23, 1985[5] |
| 13 | | "The Frozen Citadel" | November 30, 1985[5] |
| TV movie | | The Great Heep | June 7, 1986[28] |
↑ 5.00 5.01 5.02 5.03 5.04 5.05 5.06 5.07 5.08 5.09 5.10 5.11 5.12 5.13 5.14 5.15 5.16 5.17 5.18 "A Star Wars CELibration"—Star Wars Insider 27
↑ 6.0 6.1 6.2 6.3 6.4 Bantha Tracks 29 ("Miki Herman Talks TV")
↑ Blaschke, Jayme Lynn (August 14, 2004). An Interview with Paul Dini. revolutionsf.com. Archived from the original on October 27, 2007.
↑ Star Wars: Droids end credits
↑ 10.0 10.1 Droids and Ewoks: A Home Video History. Rebelscum.com. Archived from the original on May 5, 2020.
↑ Heisey, Loren. Sci-Fi Schedules. innermind.com. Archived from the original on August 3, 2020. Retrieved on November 29, 2014.
↑  Droids et Ewoks de Marchandises on StarWars.com (content now obsolete; backup link)
↑  Early Star Wars Animation Collectibles on StarWars.com (content now obsolete; backup link)
↑  Classic Animation Boba Fett Maquette a Celebration Exclusive on StarWars.com (content now obsolete; backup link)
↑  Collector Panels and More at Celebration IV on StarWars.com (content now obsolete; backup link)
↑  Celebration IV Charity Auction on StarWars.com (content now obsolete; backup link)
↑  Auctioning off the Galaxy... For a Great Cause! on StarWars.com (content now obsolete; backup link)
↑  25 Years of Collecting Droids and Ewoks! on StarWars.com (article) (content now obsolete; backup link)
↑  Calling All Galactic Treasure Hunters: SDCC Star Wars Collectibles Sneak Peek on StarWars.com (backup link)
↑  Ewoks on DVD? on StarWars.com (content now obsolete; backup link)
↑ Tambone, Lou (February 27, 2004). Interview with Paul Ens. starwarz.com. Archived from the original on January 20, 2008.
↑ Pilot, Mike (November 9, 2014). Episode XC: Pablo Hidalgo and the Dark Times. fullofsith.com. Archived from the original on September 2, 2020. Retrieved on November 25, 2014.
↑ Rick McCallum on Star Wars: Episode III. comingsoon.net (April 22, 2005). Archived from the original on December 10, 2007.
↑ Barrick, Mike (August 24, 2012). CVI: The StarWars.com And Beyond Panel. TheForce.net. Archived from the original on July 30, 2019.
↑  Metonae, Corla in the Databank (content now obsolete; backup link)
↑  Wheel bike in the Databank (content now obsolete; backup link)
↑ 29.00 29.01 29.02 29.03 29.04 29.05 29.06 29.07 29.08 29.09 29.10 29.11 29.12 29.13 29.14 29.15 29.16 29.17 29.18 29.19 29.20 29.21 29.22 Erickson, Hal. Television Cartoon Shows: An Illustrated Encyclopedia, 1949–2003. 2nd ed. Vol. I: The Shows A–L. 2 vols. Jefferson, North Carolina: McFarland & Co., Inc., Publishers, 2005, p. 307
↑ Erickson, Hal. Television Cartoon Shows: An Illustrated Encyclopedia, 1949–2003. 2nd ed. Vol. I: The Shows A–L. 2 vols. Jefferson, North Carolina: McFarland & Co., Inc., Publishers, 2005, p. 306–307
Community content is available under
CC-BY-SA
unless otherwise noted.