Star Wars: Empire at War, (sometimes abbreviated to simply EaW), is a real-time strategy (RTS) game that takes place in the Star Wars universe. Promising to end the mediocrity of past Star Wars RTS games (namely Star Wars: Force Commander and Star Wars: Galactic Battlegrounds), Empire at War started from the ground up. The game was developed by Petroglyph, comprised of many former members of Westwood Studios (known for the Command and Conquer series). This company has developed a completely new engine specifically for EaW known only as Alamo. It uses several higher-end shader effects such as soft shadows, specular lighting, and particle effects for dust clouds and explosions.
Gameplay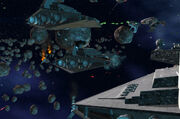 The game features a brand new style of play to make things a bit more realistic-instead of building workers, gathering resources, and recruiting individual units, players are granted resources based on how many planets the player controls. Controlling worlds increases a player's cashflow and provide unique bonuses depending on the planet (ex. Armor increases, discounted prices, special unit production.)
Battles are carried out both on a planet's surface and in orbit. Whoever controls the planet's surface, controls the planet itself. There are different factors to keep in mind depending on your status as an attacker or defender. Attackers must secure Landing Points to increase the number of units they deploy, while Defenders may deploy up to 10 "units" on a planet immediately. Attackers have their advantages, though. They may call in air strikes if they have Bombers in orbit. Likewise, ground-based installations (like the ion cannon and hypervelocity gun) can fire upon units in orbit during space tactical battles. Unlike in Galactic Battlegrounds, shields will form an actual physical barrier that must be penetrated and protect bases from artillery and bombing runs. Assorted building pads litter the playing field in both space and land battles. These pads allow the player to build useful structures (ex. Turbolasers which can easily destroy enemy mechanized units.) Combining these, and many more elements (including special abilities and hero units) creates an intense tactical and nostalgic experience that any Star Wars fan can appreciate.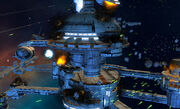 EaW takes place during the time between Episode III and Episode IV, concluding with the construction and possible destruction of the Death Star. Empire at War features three factions, although only two are playable. These factions are the Rebel Alliance the Galactic Empire and the Black Sun (Non-playable without XML modding, see below.) Units in this game are a mix of Clone Wars-era and New Order-era. The Empire's advantages include powerful ships and swarms of TIE Fighters, while the Rebels, on the other hand, must rely on swifter ships and Raid Fleets (Small ground troop fleets that can bypass space defenses.) Like many RTS games, Empire at War features a "Rock-Paper-Scissors" unit usage style—for every unit there is a counter-unit. Brett Tosti, the LucasArts producer, has stated that this encourages players to create diverse armies and fleets with units that counter other units, as opposed to building a bunch of "super units".
Players are also able to call on reinforcements during battle, including heroes like Darth Vader and Obi-Wan Kenobi. Players can also construct planet-borne ion cannons, factories, and space stations. Over forty locales are featured including Yavin 4, Tatooine, Dagobah, and others from the movies and Expanded Universe.
Planets
Species and Creatures
Heroes
Ground Units
Space Units
Special Weapons
Buildings
Hidden Items
The following are units and planets that were removed for the final version and are hidden or mentioned in the internal game files. Some have been unlocked via XML and MEG editing.
Missions
Rebel
Imperial
Modding
As was revealed in early press releases and interviews, EaW is marginally open-source—with much of the game being controlled through text files (*.txt), XML files (*.xml), DAT files (*.dat), and LUA (*.lua). Anyone with the knowledge and software needed to alter these files can do so. The text files are easily edited in most text-editing programs (though Notepad is often the default editing program on the Windows platform) and control the unique ship names that appear on many of the capital ships as well as a fair amount of the stories used throughout the Galactic Conquest mode. The XML files control much of the data responsible for the appearance and behavior of units and buildings. These files are often, by default, launched in a web browser which allows for viewing only. For the purposes of editing XML WYSIWYG web editors (ie: Microsoft's Front Page and Adobe Macromedia's Dreamweaver), text-editors such as Notepad, or proprietary XML editors can all be utilized (through the latter two are most common due to their relative ease of use).
DAT files require the use of software capable of reading the information embedded within. In Empire at War, DAT files are used to store almost all of the text found within the game. Lastly, the Lua files are used primarily for high-level scripting and AI. The decompiled files come with the Map Editor, and can replace the scripts in the EAW directory without having to compile them.
It is now possible to create new ground and space maps with the map editor released by Petroglyph. Included in the map editor download is a plug-in for 3ds Max 6 that can export models into .alo format used by the Alamo engine.
The community has been pressing forward in terms of modding, going so far as to enable Star Destroyers in low orbit above land maps, unlocking the existing units which were not put in place, and even some total conversions have begun. There exist some fan-made programs to assist with the editing of what can be edited, as well as a (at present primitive) .alo file viewer.
Mod Projects
There are many large mod projects now in the making, huge mod projects that add entire timelines.
Expansion pack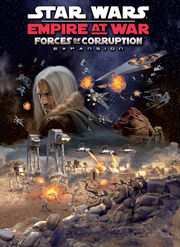 An expansion pack was announced at E3 May 9, 2006. It adds 40 new units, 13 planets, and new warfare and features. It was released October 24th in the U.S.A and came out October 27th in Europe.
Inconsistencies with established canon
Trivia
Reaction
Empire at War was well received by fans, and many considered it the best of the Star Wars RTS games. Gamespot called the game "The RTS fans had been waiting for." Others were disappointed that a sequel to Rebellion had not been made. However, some critics, at the worst, claimed the game to be shallow and repetitive, whilst others considered it fun but basic.
See also
External links