Wiki Targeted (Entertainment)
Play Sound
Star Wars: Episode I — The Phantom Menace collects all four issues of the Star Wars: Episode I — The Phantom Menace series of comics. It was released May 5, 1999.
Publisher's summary
[
]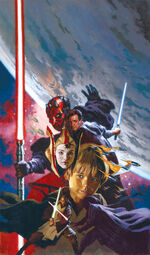 Star Wars: Episode I The Phantom Menace is the seminal tale of the Star Wars mythos, unlocking the history and events that laid the foundation for the Rebel Alliance's epic struggle against the Empire as chronicled in the original Star Wars film trilogy. Featuring familiar characters as never before seen and introducing new players destined to become Star Wars icons, Episode I is a must-see film experience, and this comics adaptation is a must-read for all Star Wars enthusiasts. Adapted by Henry Gilroy from the original screenplay by master filmmaker George Lucas and illustrated by Rodolfo Damaggio and comics legend Al Williamson. On December 27, 2011 the comics were re-released by Dark Horse Comics in honor of the re-release of The Phantom Menace in 3-D.
Differences from the film
[
]
Sebulba is shown to die after his Podracer crashes and explodes, in the film he survives. In fact, most of the Podrace is depicted differently than in the film.
The Gungan bombs are pink, whereas in the film they're blue.
The laser walls that separate Obi-Wan, Qui-Gon, and Darth Maul are instead depicted as two horizontal beams.
The end celebration shows Obi-Wan, Anakin, and Jar Jar walking up the steps as they are being rewarded, not Boss Nass.
Collected issues
[
]